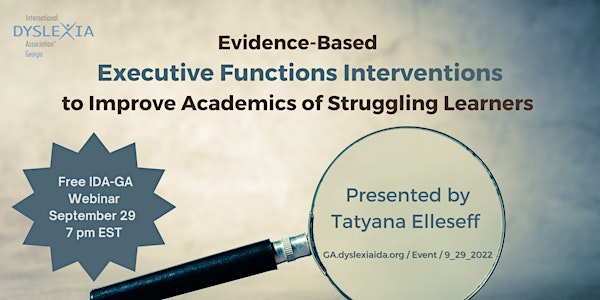 Executive Functions Interventions: Improve Academics of Struggling Learners
Learn about language and literacy interventions aimed at improving executive functioning in children with language and literacy deficits.
About this event
IDA-GA 2022 Outreach Webinar - Free and Open to the Public
The International Dyslexia Association Georgia is hosting this live webinar as a part of the Branch's outreach initiative. This event is FREE and OPEN to all. Please register to reserve your spot. The first 500 to click on the Zoom link the evening of the event will be able to attend live. If you are not able to attend live, you will still have the opportunity to view the recording. You will be invited to submit a question when you register. Attendees may ask additional questions through the chat box during the live presentation. The presentation will be approximately one hour followed by a Q&A period.
Certificates of Attendance will be available for this webinar for those who complete a post-webinar knowledge check/survey form.
DESCRIPTION
• Executive Functions (EFs) are higher-level cognitive processes involved in inhibition of thought, action, and emotion (including self-regulation, task initiation, task organization and planning, cognitive flexibility, working memory, and recall). Students with language, reading, and writing disorders present with concomitant executive function deficits which can adversely affect their academic functioning and social outcomes.
• This webinar is aimed at increasing participants' knowledge regarding how to provide effective evidence-based practice (EBP) language and literacy interventions aimed at improving executive functioning in children with language and literacy deficits. It will discuss current controversies related to executive functions interventions, outline available research on executive function abilities on children with developmental language disorder (DLD) and neurodevelopmental conditions(ADHD, ASD, SLD, etc.) as well as directly connect that research to best practices in functional EFs interventions in the areas of oral language and literacy for optimization of academic and social outcomes of struggling learners.
At the end of this webinar participants will be able to:
1. Describe executive functions (EFs) models and discuss the current research on the role of executive functions in language and literacy (reading, spelling, and writing) acquisition
2. Discuss a variety of EFs difficulties displayed by children with DLD and reading and writing disorders
3. List EBP language and literacy-based interventions aimed at improving executive functions in school-aged children
OUR PRESENTER
Tatyana Elleseff MA CCC-SLP is a bilingual SLP, specializing in issues of multicultural, internationally & domestically adopted, at-risk children with communication disorders in school and private practice settings. She has been published in several peer-reviewed journals as well as presented for numerous medical, academic and non-profit organizations and speech-language-hearing associations in the United States as well as Canada. She is a clinical instructor at the RWJ Medical School Dept. of Psychiatry and a Clinical Supervisor at Rutgers Day School, an outpatient facility located in a hospital setting for children with significant psychiatric disturbances and concomitant language and literacy impairments.
_________________________________________________________________________
A NOTE ON REGISTRATION: After registering, you will receive a confirmation email. If you do not see that email, please check your junk mailbox.  You might want to save the confirmation email. The email includes a "View the Event" button. When you click on that button, you will be asked to "Sign up or Log In."  Create an Eventbrite account (username and password) or click on "Continue with Facebook" or "Continue with Apple."  This provides an extra layer of protection for our attendees and will allow you access to the registrant-only event page.