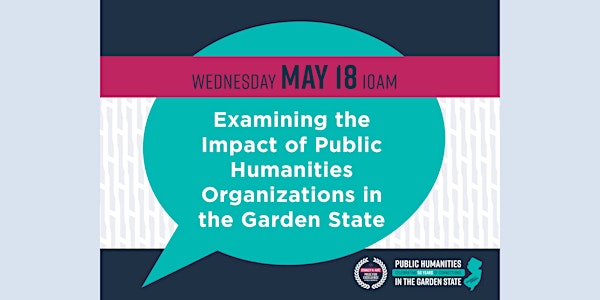 Examining the Impact of Public Humanities Organizations, a 50th event
Sales Have Ended
Registrations are closed
Registration for this event is closed. In the meantime, stay connected with us. Follow NJCH at: https://www.facebook.com/NJHumanities https://twitter.com/njhumanities https://www.linkedin.com/company/6989131/admin/ https://www.youtube.com/channel/UCk3IDsjzTJD1fccFpZp6sQQ Questions? Contact us. info@njhumanities.org
Sales Have Ended
Registrations are closed
Registration for this event is closed. In the meantime, stay connected with us. Follow NJCH at: https://www.facebook.com/NJHumanities https://twitter.com/njhumanities https://www.linkedin.com/company/6989131/admin/ https://www.youtube.com/channel/UCk3IDsjzTJD1fccFpZp6sQQ Questions? Contact us. info@njhumanities.org
Join us for an interactive conversation about how public humanities have affected New Jerseyans over the past fifty years.
About this event
You're invited!
The New Jersey Council for the Humanities has been helping grantees and program partners harness the power of the public humanities for fifty years. Over the past five decades, NJCH:
Administered millions of dollars in grant funding as the nonprofit state partner of the National Endowment for the Humanities.
Helped hundreds of New Jersey communities bring meaningful projects to their audiences, fostering an informed and empathetic citizenry.
Ensured access to interesting and thought-provoking discussions and presentations for tens of millions of New Jerseyans.
Join us for a dialogue about the history of the Council and how its present and future work will continue to shape our state featuring five organizations who represent the breadth and depth of NJCH's grantees. Later in the program, NJCH will introduce the new Stanley N. Katz Prize for Excellence in Public Humanities, which will be awarded for the first time this year in honor of our 50th anniversary.
This program will be hosted by Alexis J. Pedrick, Director of Public Engagement at the Science History Institute in Philadelphia and current chair of NJCH's Grants Committee. Alexis's work focuses on making the history of science engaging and exciting for public audiences. She has a master of arts in humanities from Arcadia University, focusing on history, philosophy, and religion. She is known around Philadelphia for her lively talks and tours and also serves as co-host of the Science History Institute's podcast, Distillations.
Featured Grantees
Bayshore Center at Bivalve advances the understanding of the human impact on New Jersey's aquatic environment through education, advocacy, and programming. BCB operates the authentically restored 1928 oyster schooner A.J. Meerwald, New Jersey's official tall ship, as a hands-on sailing classroom throughout the region. It also operates the Delaware Bay Museum and offers shore-based programs at its campus and schooner's home port on the scenic Maurice River in Cumberland County.
Panelist: Rachel Dolhanczyk, Museum Curator
Newark Museum of Art is the largest art and education institution in New Jersey, with a mission to "welcome everyone through inclusive experiences that spark curiosity and foster community." Founded in 1909 by library and museum visionary John Cotton Dana, the driving force of the museum was to promote the appreciation, understanding, and enjoyment of the arts and sciences to all members of the community. This commitment to broadening arts participation continues today, as NMOA actively engages diverse audiences and under-represented creative voices to make its exhibitions, programs, facilities, and services accessible to all. While continuing to promote cross-cultural understanding through the art objects in its global collections, NMOA now also incorporates social justice initiatives into its programs and operations, and partners with social service and community organizations to help address the basic needs of the community.
Panelist: Silvia Filippini-Fantoni, Deputy Director of Learning and Engagement
People & Stories / Gente y Cuentos has made literature accessible for those who lack the skill, confidence, or desire to read independently. For nearly 50 years, their 8-week reading and discussion programs, offered in English and Spanish, have taken place in prisons, substance-abuse recovery centers, libraries, shelters, GED and adult education programs, transitional housing and social service agencies. Participants challenge their assumptions, communicate across differences, and experience first-hand the transformative power of literature.
Panelist: Cheyenne Wolf, Executive Director
Raíces Cultural Center is dedicated to preserving cultural roots of through the arts, history, and ecology. Through their programs and initiatives, Raíces seeks to provide a platform for the investigation, documentation, preservation, dissemination, and exchange of knowledge and ideas related to the history and evolution of cultural traditions of Latin America and the Caribbean. In everything they do, they strive to develop meaningful interchanges and resources that pay homage to ancestral cultural traditions while exploring and building upon their evolution in an ever-changing world.
Panelist: Nicole Wines, Program Coordinator
Vietnamese Boat People is a volunteer-driven organization that shares its name with the almost two million Vietnamese who risked their lives to flee oppression and hardship after the Vietnam War. VBP seeks to preserve the stories, experiences, and traditions of the people of the Vietnamese diaspora, including those who fled in one of the largest mass exoduses in human history. What started as a podcast documenting the refugee experience has expanded to both in-person and digital storytelling of many different types, all implemented by a team of volunteers in New Jersey and across the country who preserve the past for future generations and encourage empathy for the millions of refugees around the world today.
Panelist: Tracey Nguyen Mang, Founder
FAQ
1. Where can I learn more about the work of NJCH? Visit njhumanities.org to learn more about the New Jersey Council for the Humanities.
2. Where can I direct questions about this event? Contact us info@njhumanities.org or 609.695.4838.