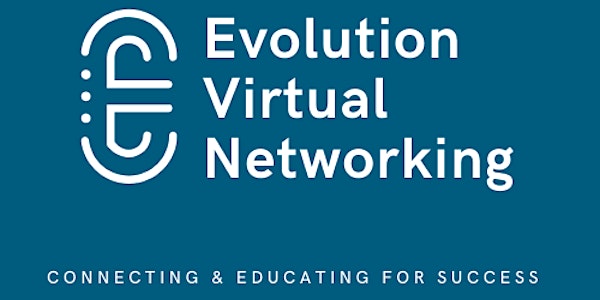 Multiple dates
Evolution Virtual Networking
Fortnightly Virtual Networking hosted by Sharon Slade from SLS Marketing Consultancy
By Lynne Moffat & Sharon Slade
Date and time
June 4, 2020 · 12am - July 27 · 1:30am PDT
About this event
Are you looking spread your business message?
Are you a Business Owner who wants to learn and grow?
Have you been too busy to network before and don't want to spend time travelling to networking events?
If the answer to any of these questions is "yes" then join us fortnightly for Virtual Networking without leaving your home or office.
Our aim is simple - To help more businesses, make new contacts, enabling you to do more business.
We are UK based but virtual and we welcome all who attend. There is no membership or lock out of professions. Our events are free.
We also want to provide business education so that we all learn something from every event we attend.
Our approach is straightforward:
We will always hold our events online
Our events will be inclusive, no lock out, any business owner can attend
We would like business owners to commit to attend regularly to build relationships
Be positive and forward thinking
Be flexible to meet the needs of the business climate and regular attendees
We will enable business owners to learn something which helps their business
We will encourage business referrals & introductions and people to business
We will encourage business owners to develop relationships beyond the meetings
We will encourage people who have never networked before
When - Fortnightly on Thursdays
Time - 8am -9.30am
Where - Online using Zoom
Our format is uncomplicated, and usually one of the following:
Format 1
8.00 Breakout networking as people arrive (small groups)
8.15 Introduction
8.30 60 seconds by each attendee
9.00 20 minute presentation/discussion topic followed by questions & answers
9.30 Close meeting – Follow up with individuals you would like to speak to on a 1 to 1 basis
Format 2
8.00 Breakout networking as people arrive (small groups)
8.15 60 seconds by each attendee
8.45 Business topic Q&As (sent in by attendees in advance)
9.30 Close meeting – Follow up with individuals you would like to speak to on a 1 to 1 basis
We will invite a guest speaker to provide a short presentation on a topical subject, if you would like to deliver some key information about your business or service, please get in touch.
Once you click to book your FREE ticket, you will be sent a welcome email and link to join the Networking session via zoom.
We look forward to welcoming you to be part of this innovative online networking experience.
Connecting and educating for success.
About the organizer
Accounting and Beyond
Here at Accounting and Beyond we aim to support you to grow your business with confidence.
Our experienced team of accountants and business growth specialists focus on joining together your accounting and financial requirements with your overall business objectives.
We can support you with all of your business and legal requirements including VAT returns, Accounts and Corporation Tax as well as submitting your Annual Confirmation Statements and supporting you with payroll services.
The work does not stop at just providing the numbers. We then use these numbers to guide your business growth. We develop your cashflow forecast and then work with our marketing team and your business to understand how you can hit your targets.
Founded by Richard Sadler, a fully qualified accountant, Accounting and Beyond pride themselves on providing a personal, bespoke service, crafted to meet your business needs and reduce your stress.
The Bookkeeping Department
At The Bookkeeping Department, we help and support all types of businesses and their owners by enabling them to have their business finances under control.
Our clients tell us this that we give them peace of mind, help them manage their business effectively and free up their time so they can focus on developing or managing other aspects of their business.
Based in Hitchin in Hertfordshire and in Cambridge, we work with small and medium sized businesses of all shapes and sizes located in Herts, Beds and much further beyond. With the use of cloud based technologies, location is no barrier to who we work with.
We help all clients from those who just want some help to do the bookkeeping themselves (but more effectively) or clients who want the full works with the Finance Department option where they can have bookkeeping, credit control, suppliers paid and financial administration all done for them.
We work with clients in all sectors e.g. leisure industry, engineering, media and marketing agencies, builders and trades and many more.
The Bookkeeping Department is owned by Alistair and Lynne Moffat who have a passion for working with and supporting other businesses. They come from a background of running a Cloud Bookkeeping franchise for a number of years and they have plenty of bookkeeping expertise, lots of patience and a wide range of experience working with many different types of business
SLS Marketing Consultancy
SLS Marketing Consultancy is here to cut through all the confusion surrounding marketing and help you build the foundations for a successful business. We help you identify who your target market is, understand their pain points and help with messaging and channel choice to ensure you have a strong pipeline of sales.