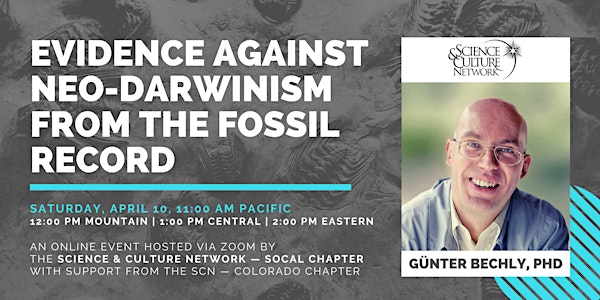 Evidence Against Neo-Darwinian Evolution From the Fossil Record
Dr. Günter Bechly discusses how sudden radiations of new species in the fossil record contradict evolutionary theory; live Q & A following.
About this event
Renowned German paleontologist Dr. Gunter Bechly will present a talk on how the Neo-Darwinian theory of evolution predicts a gradual bottom-up pattern of appearances of new biological kinds and body plans in the fossil record. The actual fossil record strongly contradicts this prediction and consistently features discontinuities and abrupt appearances in all groups and all geological eras. To demonstrate that this is not restricted to the famous Cambrian Explosion, 20 more examples are provided from the origin of life to the "Big Bang" of the genus Homo. This accumulation of conflicting evidence can no longer be explained away as an artifact of undersampling of an incomplete fossil record, as demonstrated by statistical analyses (collector's curve). Even for the low taxonomic level of species-to-species transitions, almost all supposed fossil evidence for gradualism has not withstood scrutiny by modern research. The cumulative evidence is better explained with pulses of infusion of new information from outside of the system than with a purely mechanistic unguided process like Neo-Darwinism.
Bio: Dr. Günter Bechly (born 1963) is a German paleontologist, Senior Fellow with Discovery Institute's Center for Science and Culture in Seattle, senior research scientist at Biologic Institute in Redmond (USA), and chairman of the Zentrum für BioKomplexität & NaturTeleologie. His research focuses on the fossil history of insects (Bechly is the world's leading expert for fossil dragonflies), discontinuities in the history of life, and the waiting time problem. He earned his diploma (M.Sc.) in biology and his Ph.D. (summa cum laude) in geosciences from the Eberhard Karls University of Tübingen (Germany). He worked from 1999-2016 as curator for amber and fossil insects at the State Museum of Natural History in Stuttgart (Germany), as a successor of Prof. Willi Hennig, the founder of cladistics. He also held a teaching assignment at the University Hohenheim in Germany on insect systematics and phylogeny. He has authored or co-authored about 160 scientific publications, including a co-edited book published by Cambridge University Press and a popular science book on evolution. He has discovered and named more than 180 new species and has 11 biological groups named in his honor. He has served on the editorial boards of five scientific journals and has organized five large public exhibitions on earth history and evolution, incl. the largest event for the Darwin Year 2009 celebrations in Germany. Bechly's research received broad national and international media coverage (e.g., at BBC, Scientific American and National Geographic), especially the discovery of the new insect order Coxoplectoptera. He has been interviewed widely in German TV, radio and press, and served as a science advisor for three natural history documentaries by BBC and David Attenborough. Bechly now lives with his wife and two sons (6 and 8 years) in Austria.