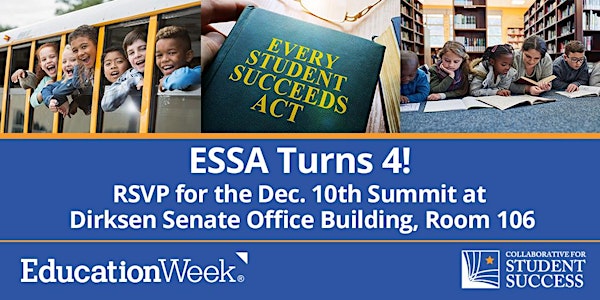 Every Student Succeeds Act Four Year Anniversary Event
When and where
Location
Dirksen Senate Office Building Room 106 50 Constitution Ave NE Washington, DC 20002
Description
Mark your calendars for an afternoon discussion of ESSA – four years (to the day) after the law was signed.
Panels will be moderated by Education Week's Alyson Klein, Evie Blad, Andrew Ujifusa, and Daarel Burnette II. Lunch will also be provided and a reception will follow the event.
Agenda:
12:00 - 12:10pm: Opening Remarks from Jim Cowen, Executive Director, Collaborative for Student Success
12:15 - 1:15pm: Keynote Lunch
Senator Lamar Alexander, (R-TN)

Congressman Bobby Scott, (D-VA)

Congressman John Kline, (R-MN) Retired
Moderator: Alyson Klein, Education Week
1:25 - 2:10pm: Improving Schools and Advancing Equity
Setting the Stage: Dr. Caitlin Scott, Research Director, Learning Policy Institute
Panel Discussion:
Susie Feliz, Vice President, Policy and Legislative Affairs National Urban League Washington Bureau

Becky Pringle, Vice President, National Education Association

Lindsay Jones, President & CEO, National Center for Learning Disabilities

Mendell Grinter,

Board Member, Country Music Association Foundation

Moderator: Andrew Ujifusa, Education Week
2:20 – 3:05pm: Assessments From Reality to Possibility
Setting the Stage: Dale Chu, Senior Visiting Fellow, Thomas B. Fordham, primary author of the Testing 1-2-3 Blog
Panel Discussion:
Kirsten Baesler, State Superintendent, North Dakota Department of Public Instruction

Amanda Aragon, Executive Director, NewMexicoKidsCan
Ignite Presentations:
Chris Minnich, CEO, The Northwest Evaluation Association

Stephen Murphy, Chief Assessment Officer for Cognia

Rob Waldron, CEO of Curriculum Associates

Moderator: Evie Blad, Education Week
3:15 - 4:00pm: Military-Connected Students: What Can We Learn From Their School Performance?
Setting the Stage: Congressman John Kline (R-MN) Retired
Panel Discussion:
Christi Ham, Chairwoman, Military Families for High Standards

Doug Mesecar, Adjunct Scholar, Lexington Institute

Jerrod Wheeler, Superintendent, Knob Noster, Missouri

Moderator: Daarel Burnette II, Education Week
4:10 - 4:55pm: Follow the Money – Advancing Equity with Per-Pupil Data
Setting the Stage: Dr. Marguerite Roza, Research Professor and Director of the Edunomics Lab at Georgetown University
Panel Discussion:
Ary Amerikaner, Vice President for K-12 Policy, Practice, and Research, The Education Trust

Dr. Lewis Ferebee, Chancellor, D.C. Public Schools

Shari Bremekamp, Principal, Cypress Trails Elementary School, Palm Beach County School District

Dr. Marguerite Roza, Research Professor and Director of the Edunomics Lab at Georgetown University

Moderator: Daarel Burnette II, Education Week
4:55 - 5:00pm: Closing Remarks by former Delaware Governor Jack Markell
5:00 - 6:00pm: Reception