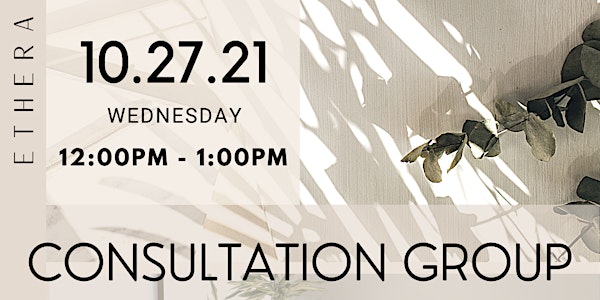 ETHERA MEMBERS ONLY: October Consultation Group
October Consultation Group W/ Dr. Debbie Kirschbaum
When and where
Location
Ethera 19712 Macarthur Boulevard Irvine, CA 92612
About this event
Dr. Debbie Kirschbaum has been a licensed psychologist for 30 years and a certified psychoanalyst for 16 of those years. She works from a relational perspective, where the therapeutic relationship, transference and countertransference reactions, reveals the underlying internal dysfunctional patterns and emotional dysregulation that gets in the way of a contented, productive life.
A note from Debbie about the consultation group:
We will have an hour to go over some typical difficulties with setting and collecting fees, but I would like to spend most of the time discussing your particular instances that have come up. I will share some of my own that were trying but very educational. I am hoping people feel it is a safe space to share one of the most important issues in our work and collect payment. We can look at case material and see how a client may be acting out their issues revealed through the handling your fee. We will look at your own feelings and why you might be feeling this now--is this revealing something about your struggle or something that is emerging from the material coming up right now in the work? We will share about different ideas for ways to manage certain situations.
Fee setting and collecting is not always easy nor is it taught in our training programs. Through this consultation/discussion group, I hope that we can learn, explore, and work through the difficulties we face and the issues that rise up around setting fees and collecting payments.