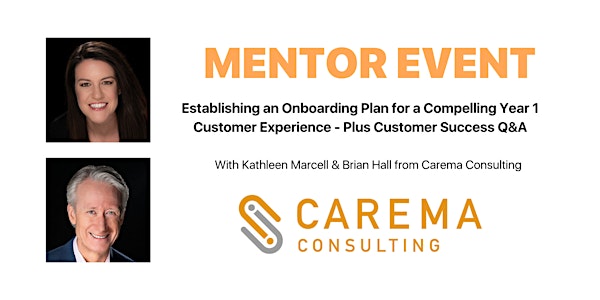 Establishing an Onboarding Plan for a Compelling Year 1 Customer Experience
For any seed-stage technology company, it's never too early to instill a Customer Success ethos.
About this event
Developing great Customer Success - as an order of business second only to building a great product - leads to a higher Series A company valuation and faster realization of product/market fit.
During this session, Workbox Mentors Brian Hall and Kathleen Marcell from Carema Consulting will explain how:
developing an effective onboarding plan expedites time to value and can facilitate the achievement of a customer's desired business outcomes
establishing best practices for your product's stickiest features will help to achieve early wins and drive product adoption
Carema Consulting helps early- and growth-stage recurring revenue companies grow faster by providing them with solutions and strategies that increase revenue from their current customers. They have spent more than 30 years partnering with founders of early-stage and high-growth B2B software companies to scale customer-facing teams, with a particular focus on customer success organizations. In founding Carema Consulting, Brian and Kathleen strive to help founders navigate around the pitfalls we have encountered in building and leading teams at software companies, from seed stage through Series C.