Description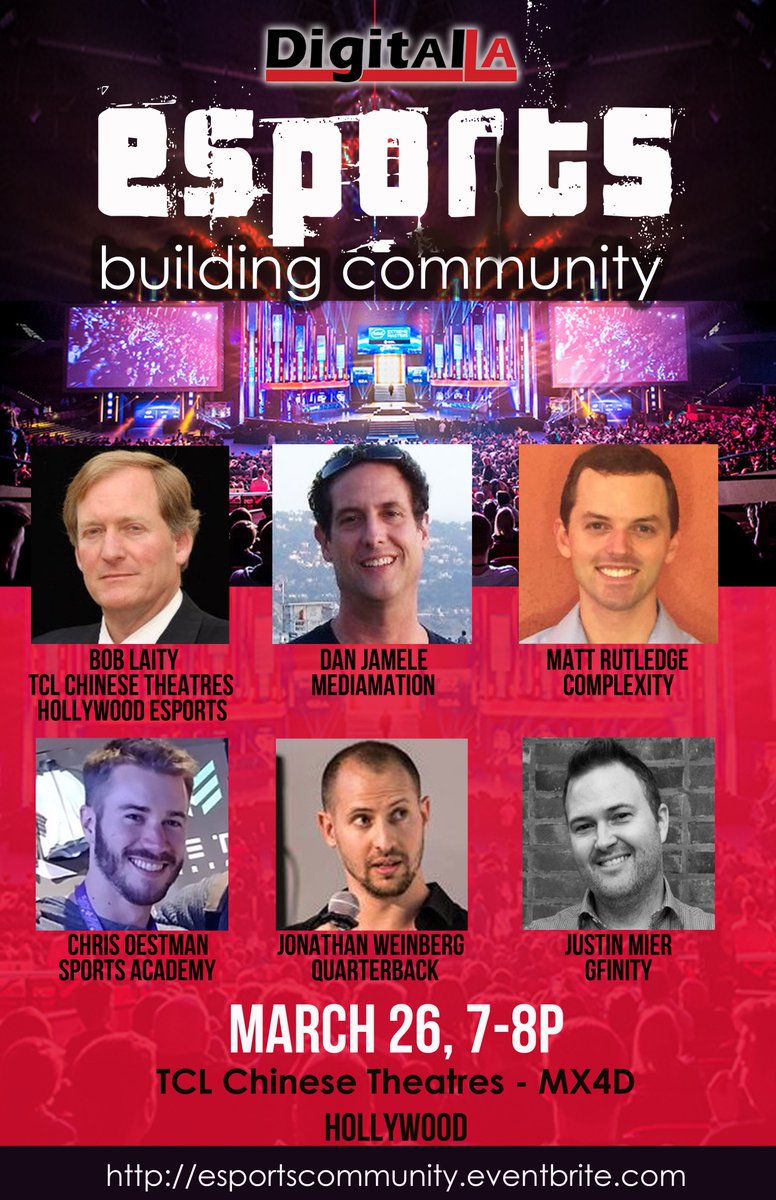 Join us for our Esports: Building Community panel where we'll discuss how esports venues, leagues, and teams help build their community online via social media, Twitch, and offline via events, tournaments, meetups and more.
SPEAKERS
- Bob Laity, TCL Chinese Theatres CEO, and Hollywood Esports, CEO.
- Matt Rutledge, Complexity, Director of Mobile Gaming, and Mobile Gaming Mondays Director, and Hollywood Esports strategist
- Dan Jamele, MediaMation, Chief Innovation and Technology Officer. Dan invented the MX4D Esports Theatre, with motion seats, strobe lighting, water, and smell effects. Effects are coordainted with visuals on a movie screen via pre-programmed, or live via a game jockey controlling the effects during esports tournaments.
- Chris Oestman, Sports Academy, Esports Coordinator. Sports Academy is a sports facility in Thousand Oaks which recnetly added esports training classes.
- Justin Mier, Gfinity, Marketing, CMO. Justin drives all marketing strategy and execution for the global Gfinity Esports business which includes flagship brands, Challenger Series & Elite Series, the Gfinity Esports Arena venue in London, in addition to our white label solutions for Microsoft, Formula 1, and other entertainment and sports companies. He recently moved to LA to expand US marketing.
- Jonathan Weinberg, Quarterback, CEO. The Quarterback platform allows eSports players and other influencers to engage their fan base by hosting daily challenges, sponsoring clubs, giving away prizes and offering other perks when their fans play games like League of Legends. It lets players monetize their fans when they -- the fans -- are playing, and the professional player is offline.
Attendees are welcome to attend the Mobile Gaming Mondays in the MX4D Theater at 10p no extra cost.
PARKING: Park on your own in the Hollywood & Highland Theater. Parking is $2 for 4 hours with validaiton at the theater or other Holllywood & Highland stores. Or tak the metro to Hollywood and Highland.