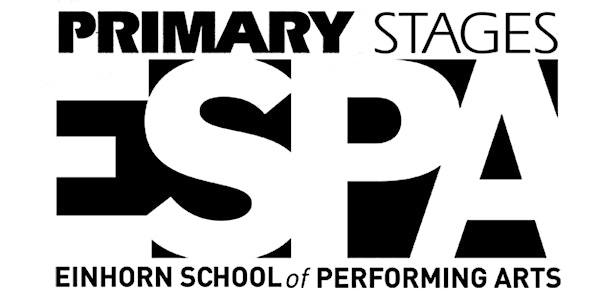 ESPA Fall 2016 Free Workshop: Refining Your Monologue and Audition
Date and time
Tuesday, September 13, 2016 · 4 - 5pm EDT
Location
Primary Stages Studios 307 West 38th Street Suite 1510 New York, NY 10018
Description
Primary Stages ESPA Free Workshop
Refining Your Monologue and Audition with Kelly McAndrew

Tuesday, September 13
4:00pm - 5:00pm
Primary Stages Studio B
This ESPA Workshop is FREE and open to the public.
Before and after the Primary Stages ESPA Mixer, join us for a couple of special workshops to get a real taste of some of the classes ESPA has to offer!
Starting with an in-depth discussion on how to approach monologues and auditions, Kelly McAndrew (Actor, Men on Boats at Playwrights Horizons, Perfect Arrangement at Primary Stages) will then coach a handful of participants on what's currently in their book or on sides being prepped for an upcoming audition. With feedback that's universally applicable, all attendees with leave with a stronger sense of what to look for in choosing a monologue, how to break up any audition piece into physical beats, and ultimately, how to refine your repertoire and self-coach your monologue or sides prior to any big audition.
Please prepare an audition-ready monologue or sides you are currently working on if you would like to participate. Participants will be chosen at random, and participation is not required.
Want to learn more about Kelly's Fall class at ESPA? Click here for more information!
To register for our other events, click on the links below:
ESPA FREE WORKSHOP: Alexander Technique with Karen Braga
5:00pm - 6:00pm
Primary Stages Studio B
Learn how to release tension, warm up your instrument, and overcome your nerves in those tense moments before an audition! Karen Braga, ESPA's Alexander Technique expert, will guide you through a few quintessential exercises to give you the freedom to take bigger risks and make stronger choices.
ESPA Mixer
6:00pm - 8:00pm
Primary Stages Studio A
We're opening our doors to newcomers and ESPAtriots alike. Come on by our Mixer for an evening of food, fun, and artistic inspiration, and meet some of the many people who call ESPA home! Share a drink, meet our faculty, and join us for a couple of free workshops to get a real tase of some of the classes ESPA has to offer.
ESPA FREE SCREENING AND DISCUSSION: "Submissions Only" with Kate Wetherhead
7:00pm - 8:00pm
Primary Stages Studio B
Kate Wetherhead's web series "Submissions Only", which she created with collaborator Andrew Keenan-Bolger in 2010, has been described by New York Magazine as "the best (funniest, smartest, warmest) series ever made about show folk" and by Entertainment Weekly as "the best show not on TV". Kate wrote or co-wrote all twenty-two epidodes of the three-season series, and is joining us for a viewing and post-screening discussion to talk about the process of creating this exciting work and to answer your questions about the art and the industry of a web series.
ESPA FREE WORKSHOP: Getting It Written with Kate Wetherhead
8:00pm - 9:00pm
Primary Stages Studio B
Hang out after the mixer with ESPA Web Series instructor Kate Wetherhead (Writer, Director, Creator of "Submissions Only"; Actor, Broadway's Legally Blonde and ...Spelling Bee) to get your creative juices flowing! This series of writing exercises will push you outside your comfort zone, banish writer's block, and break all the rules.
About the organizer
Primary Stages Marvin and Anne Einhorn School of Performing Arts (ESPA) is a multidisciplinary school with departments in writing, acting, and directing. Now in its eleventh year, ESPA has refined actors who have been seen on and off-Broadway, developed writers whose work has won awards and received workshops and productions, and served as a professional and artistic home for emerging talent. ESPA is defined by its strong commitment to collaboration through programs such as Detention, a monthly series that partners ESPA writers, actors, directors, and a faculty advisor in the creation of highly original performances. Having provided a home to over 3,000 students, ESPA has become a leader in performing arts education through its excellence in training, collaboration and networking opportunities, and strong professional community. ESPA is open to all artists, in all stages of their careers.