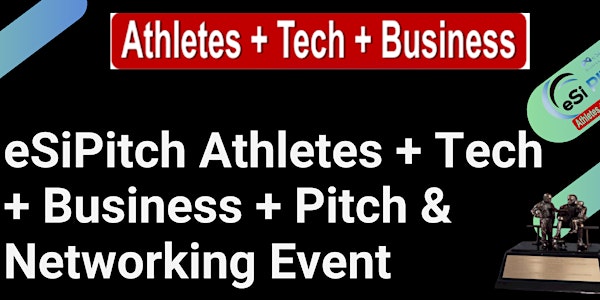 eSiPitch Athletes + Tech + Business + Pitch & Networking in Washington DC
Education, Pitch segment, Networking, with serious-minded. individuals. Learn, connect and succeed.
When and where
Location
Hilton Washington DC National Mall The Wharf 480 L'Enfant Plaza Southwest Washington, DC 20024
About this event
3 hours 30 minutes

Mobile eTicket
An event for Athletes , Executives, Founders, Investors,Business Professionals and Trendsetters.
Hosted by eSiPitch Athletes +Tech + Business, Financial Architects and Trailyn VC & Trailyn Ventures
During the Watkins Award Weekend, March 10th, and 11th, 2023.
eSiPitch Athletes + Business Networking serving as a platform to connect serious minded current and former athletes with celebrities, executives/business leaders, entrepreneurs, investors, philanthropists, and more!
Our mission is to assist attendees in creating opportunities for partnerships, collaboration, and empowerment.
Featured Speakers:
Sterling Louviere is a veteran financial advisor with over 30 years of experience. After a decade of working on the insurance side of the business, he started his own firm in 1996 to focus on tax mitigation. Over the ensuing three decades he has built a suite of tools he uses in conjunction with the client's accountant and attorneys to reduce the client's tax footprint and allow them to keep more of their own money.
Larry Steinberg is an experienced financial adviser, thought leader, and speaker. Larry has been quoted in numerous publications, is a published author, and a regular speaker at conferences and events. Larry started with Wells Fargo while attending Occidental College, went to Transamerica after graduation and was a registered representative of SunAmerica Securities before starting his own firm at age 25.
Barbara Bickham Managing Director @ Trailyn VC | CTO @ Trailyn Ventures | Host @ Female VC Lab Podcast | Board Member | EIR | Speaker, Recent Honors: - Equality-Focused Fund Accelerator of the Year 2021, Best Emerging Tech Fund & Accelerator 2020 & Finance Innovation Award in Equal Opportunity Private Equity 2020, Female CTO Of the Year Nominee, 2019, 2021 - Women in IT Awards, Tech for Good Award Nominee 2020 - Women in IT Awards
Jelani Jenkins is a 5 year NFL Vet and the founder/CEO of Postseason – a social learning app that helps athletes continue their growth, success, and fulfillment beyond sports. I am also a certified mental performance coach. Passionate about helping others find their passions. I've built my coaching practice in response to the challenges I went through after retiring from the NFL. Built on two key principles, my methodology emphasizes Self-Discovery and Self-Mastery. Through mindset training, I help athletes and high-performers overcome their subconscious limitations to achieve their goals quicker, easier, and with more fulfillment.
Reginald "Reggie" Grant, MSEd, is a Business Strategist, Co-founder, eSportsInstruction and NFTs By Athletes, Inc., eSiPitch, former NFL. He consults with CEOs, and start-up companies to help them develop revenues, cultures of success, and position them to raise capital. Using our eSports Instruction, eSiPitch, and non-traditional Business Accelerator platform's.
SPONSORSHIP INFORMATION
Reginald Grant, MSEd,, rgrant@esportsinstruction.com, 323 503 5675