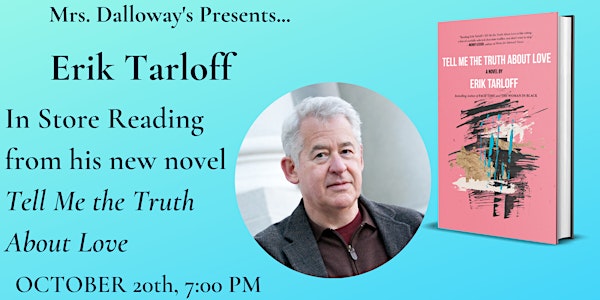 Erik Tarloff In Store Author Appearance, Reading, and Signing
Join us Thursday Oct 20th when author Erik Tarloff comes to Mrs. Dalloway's to read from his new novel Tell Me the Truth About Love
When and where
Location
Mrs Dalloway's 2904 College Avenue Berkeley, CA 94705
About this event
Berkeley author Erik Tarloff will read from, discuss, and sign copies of his new novel. Preorder Tell Me the Truth About Love here.
A novel about sexual love, straight and queer, about love between friends, between exes, between parents and children, between lovers old and new, Erik Tarloff's Tell Me the Truth About Love tells the story of Toby Lindeman, a divorced man in San Francisco leading what appears to be an enviable bachelor's life. Suave, attractive, somewhat detached from the emotional needs of those around him, he seems to sail blithely above life's common difficulties as he goes about his duties as chief fundraiser for the San Francisco Opera.
But then, to his own surprise, he falls passionately in love with the most inappropriate woman possible, the long-time mistress of the powerful man on whom his own future seems to depend. As Toby navigates the risks of this relationship, encountering heartbreak and professional catastrophe along the way, he also finds himself reconnecting on a much deeper level with all the people in his life. Suspenseful, sexy, and often laugh-out-loud funny, Tell Me the Truth About Love is a very contemporary look at the varieties of human connection.
ERIK TARLOFF is the author of the national bestseller Face-Time, The Man Who Wrote the Book and All Our Yesterdays. His last book, The Woman In Black, was a Los Angeles Times bestseller. Much of his early work was written for the screen, both large and small and for publications including Slate, The Atlantic, The New York Times, The Washington Post, The Financial Times, and many others. His list of credits includes almost one hundred situation comedy scripts, including multiple episodes of M*A*S*H, All in the Family, The Bob Newhart Show, The Jefferson's, Alice, Room 222, Housecalls, My World and Welcome To It, and many others. For his television writing, he has been nominated for an Emmy Award, a Writers Guild Award, and an NAACP Image Award. He currently lives in Berkeley, California with his wife, economist Laura Tyson. This is his fifth novel.
Due to ongoing COVID concerns and customer safety considerations, we will be limiting the number of attendees at our in-store events. To that end, please note the following and thank you for your understanding.
THIS EVENT is free but pre-registration is required. Registration ends at 4:30 pm on October 20th.
BECAUSE SEATING is limited, please register only if you plan to attend.
DUE TO SPACE limitations, we may not be able to accommodate every person at an event, so early registration is encouraged.
MASKS are required for attendees during the event.
WE ARE NOT ABLE to accommodate any walk-ins that evening.
WE ASK that attendees arrive between 6:30 and 6:45pm for the event.