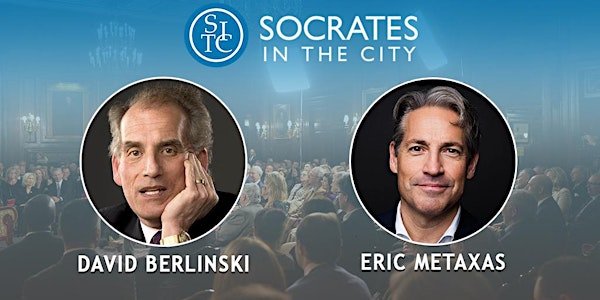 Eric Metaxas interviews David Berlinski
Socrates in the City Presents: Eric Metaxas Interviews David Berlinski
When and where
Location
The Union League Club 38 East 37th Street New York, NY 10016
Refund Policy
Contact the organizer to request a refund.
About this event
Socrates in the City host, Eric Metaxas, will interview Dr. David Berlinski on the topic of "What is Human Nature?"
Berlinski received his Ph.D. in philosophy from Princeton University and was later a postdoctoral fellow in mathematics and molecular biology at Columbia University. He has authored works on systems analysis, differential topology, theoretical biology, analytic philosophy, and the philosophy of mathematics, as well as three novels. He has also taught philosophy, mathematics and English at Stanford, Rutgers, the City University of New York and the Université de Paris. In addition, he has held research fellowships at the International Institute for Applied Systems Analysis in Austria and the Institut des Hautes Études Scientifiques.
In addition to his latest, Human Nature (Discovery Institute Press, 2019), David is the author of numerous books, including The Devil's Delusion: Atheism and It Scientific Pretensions (Crown Forum, 2008; Basic Books, 2009), Infinite Ascent: A Short History of Mathematics for the Modern Library series at Random House (2004), The Secrets of the Vaulted Sky (Harcourt, 2003), The Advent of the Algorithm (Harcourt Brace, 2000), Newton's Gift (Free Press, 2000), and A Tour of the Calculus (Pantheon, 1996). William F. Buckley Jr. said of The Devil's Delusion that "Berlinski's book is everything desirable; it is idiomatic, profound, brilliantly polemical, amusing, and of course vastly learned."
Berlinski lives in Paris, France.
Event Details:
November 1 at the Union League Club of New York City
6:00 - 6:30 pm: Doors open, reception
6:45 - 8:15 pm: Main interview event
Frequently Asked Questions:
What is the dress code?
The Club requires Business Attire for all persons; coat and tie for gentlemen (no jeans or sneakers).
Is my payment tax deductible?
Payments to Socrates in the City are not tax deductible.
What is the refund policy?
We are unable to offer refunds, transfers, or reimbursement for tickets at this event.