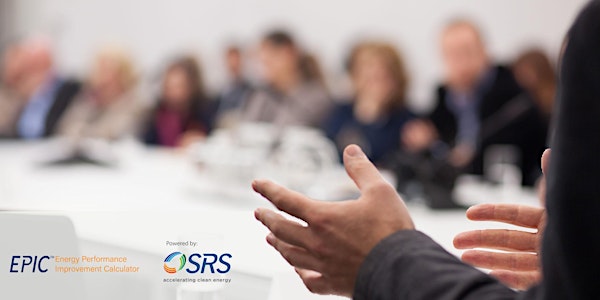 EPIC™ Master Class: Unlock the Power of EPIC's Custom Improvements
This free webinar is for professionals who wish to learn more about how EPIC can support a wide range of custom improvements.
About this event
In this free Master Class webinar, attendees will learn how the Energy Performance Improvement Calculator (EPIC) can support a wide range of custom improvements:
Energy efficiency measures
Renewable energy systems, e.g., solar PV
Other cost/savings, e.g., ITC, MACRS, utility rebates, custom fees.
SRS will share insights and lessons learned from collaborating with leading energy efficiency project stakeholders and how EPIC enables the business case analytics needed to confidently invest in energy efficiency.
Featured Speaker
Tracy Phillips, CEM, CMVP, CDSM, PMVA
Tracy serves as Director of the Colorado C-PACE program for Sustainable Real Estate Solutions (SRS). In this role, Tracy uses EPIC to provide technical assistance and streamline collaboration with energy efficiency project stakeholders. EPIC has proven a critical tool to accelerate project scenario development and optimize the energy savings, CO2e emissions reduction and financial impact of energy improvements.