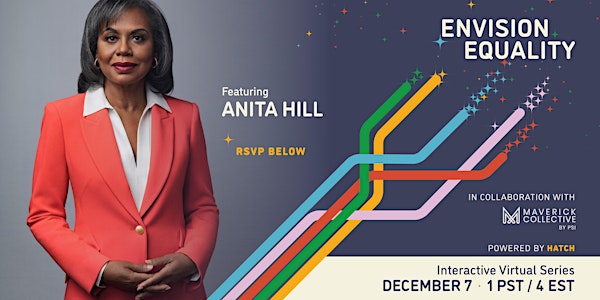 Envision Equality Round Table Featuring Anita Hill
Please join us for a virtual interactive event with inspiring visionary Anita Hill and journalist Marianne Schnall.
About this event
The world stands at a critical juncture. The last year-and-a-half has shaken our societies and exposed structural and intersecting inequalities around race, gender, class, and other axes of power and privilege. We have a unique opportunity to build a new world, one that places gender justice at its core. To do this, we have to dismantle and rebuild the systems that have upheld and perpetuated inequality, and commit to the hard work of shifting and relinquishing power with humility and intention. This will require unique and diverse visions from across industries, borders, and perspectives.
We cannot be what we do not ENVISION.
Envision Equality, in collaboration with the Maverick Collective by PSI, is honored to host inspiring visionary Anita Hill for a virtual interactive event. Anita will join journalist Marianne Schnall in a virtual fireside chat about the timely themes in Hill's new book, as well as what it will take to truly envision a gender just future. Remarks will also be made by event co-hosts Sarah Henry, Carol Jenkins and Mona Sinha.
Since this event will include an interactive portion during which participants will have an opportunity to reflect with one another, we will be capping this event at 200 people, so be sure to RSVP! Also, after the event, we are happy to be able to send a select number of attendees a signed copy of Anita's new book, Believing: Our Thirty-Year Journey to End Gender Violence. This event will take place over Zoom, and the link will be sent out a day before the event to all registered attendees.
About the Guest Speaker
Anita Hill is University Professor of Social Policy, Law, and Women's and Gender Studies at Brandeis University. After the 1991 Senate confirmation hearings for U.S. Supreme Court nominee Clarence Thomas, Hill became a leading figure in the fight for women's rights and against gender-based violence. She has written for The New York Times and Newsweek, and is a sought-after speaker.
In her new book, Believing, Anita Hill draws on her decades as a teacher and legal scholar to explore the far-reaching impact of gender-based violence, why it persists, and what we can do to protect future generations. A uniquely insightful combination of memoir and social analysis, Believing is a strident call to arms from one of our most prominent and poised survivors. Drawing on lessons learned from the Thomas hearing in 1991, the Kavanaugh hearings in 2018, and countless events in between and since, Hill shows how far we have (or haven't) come in thirty years—and what should come next.
About Envision Equality
The #EnvisionEquality project began as a collaboration between the Global Center for Gender Equality at Stanford University, Marianne Schnall (Journalist and Founder of Feminist.com), and the ERA Coalition and Fund for Women's Equality, all of whom joined together in the hopes of connecting with a diverse group of dreamers and doers to amplify their visions of a gender-just future. While this journey began with a series of articles at Forbes.com and a digital campaign around #EnvisionEquality, it has morphed into a diverse collection of voices, whose collaboration will unlock the pathway to an inclusive and just future. At this critical juncture, we all have the opportunity to expand our impact and deepen the roots of this movement, and we hope that as we continue to develop, you'll be inspired to share your vision with us.