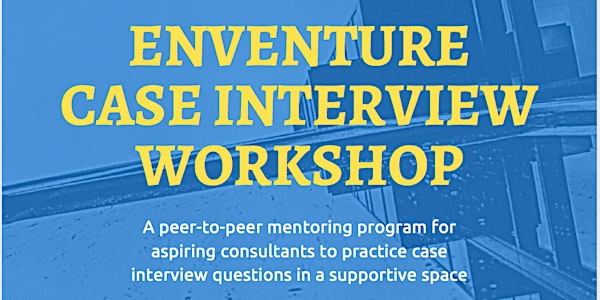 Enventure Case Interview Workshops
*** Register for the workshop series here: https://forms.gle/tkPCUrjgpsiNJxtF6 ***
About this event
A peer-to-peer mentoring program for aspiring consultants to practice case interview questions in a supportive space
Enventure's Case Interview Workshop series is a fundamentals training and peer-to-peer mentoring program for aspiring consultants to practice case interview questions in a supportive space. Consulting is a dynamic career option for curious problem solvers, which allows for team-driven solutions to a variety of real-world business problems. Consulting isn't just restricted to individuals pursuing a business degree, but the advanced analytical skills obtained during a PhD, MD, or JD lend themselves well to the demands of the job. This career option allows for a variety of different specializations within the field and also provides solid avenues into biotech and pharmaceutical research. However, just as with any skill, repeated practice with hands-on problems is key to becoming a true expert. Case Interview Workshops support the acquisition of directed skillsets, methodologies and approaches commonly used in consulting, thereby supporting the personal development of individuals interested in a consulting career and beyond.
Join us Monday evenings 6:30-8:30 pm starting January 11th as we kick off this semester with a series of informative (and interactive) sessions. Weeks 1-9 will be formalized training on general business concepts, case interview anatomy and commonly used frameworks.
Whether you're experienced within the consulting field or new to the case interview process, Enventure's Case Interview Workshops has something for you!
Week 1 to 8 (1/11/2021 to 3/1/2021): Training session
Week 9 to 12 (3/8/2021 to 3/29/2021): Group case practice
Week 12 to 20 (4/5/2021 to 5/24/2021): One-on-one practice
Detailed syllabus:
https://docs.google.com/document/d/1JMZQBKvVal775qRig1g2rF2N04HhMxhlJyVNyaGAQF0/edit?usp=sharing
*** Register for the workshop series here: https://forms.gle/tkPCUrjgpsiNJxtF6 ***