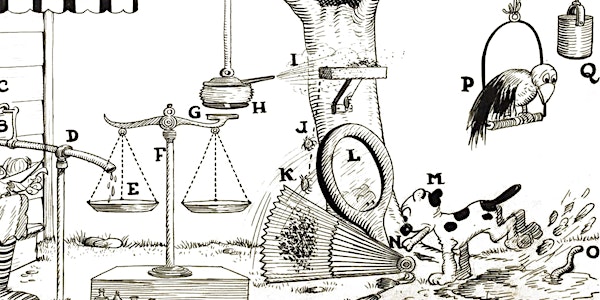 Entrepreneurship – A Structured Process
A Long Now Boston Community Conversation with Danny Warshay, Author, Brown University Professor, Entrepreneur
About this event
If you have imagined starting a venture or changing the way things are done, then Danny Warshay has something to offer—a structured process for turning an unsolved problem into a breakthrough success. As he shares in his award-winning new book, SEE, SOLVE, SCALE: How Anyone Can Turn an Unsolved Problem into a Breakthrough Success, Danny demystifies entrepreneurship and offers practical, proven techniques for seeing a problem with a fresh mind, for iterating towards an optimal solution, and for bringing those solutions to scale. The process starts with Bottom-Up Research which this session will cover in detail, and moves through a series of stages, one of which is the Landscape Exercise—drawing the future you imagine and building a metaphorical road to get there.
Danny is excited to share his ideas with Long Now Boston, and is offering "advance credit" for those seeking an introduction to his reframing of the entrepreneurial process and a firm grounding in Bottom-Up Research. In this flipped workshop approach, Danny is asking participants to view this video (esp min :10+ and :20-:60, also embedded below) in advance, and bring their insights with them. Danny will begin the conversation with an interactive discussion of key learnings and will call on you to contribute: What surprised you? What did you learn? What questions were raised?
Danny also plans to share the insights of a few of his former students—many of whom have launched successful ventures after taking his course.
Danny teaches entrepreneurship as a process that anyone can learn, master and apply, not a character trait. The tools are universally applicable to problem solving of all kinds
Among the questions this conversation will explore:
How can entrepreneurship cross boundaries from business to non-profits to social change?
What are the key motivations that inspire successful entrepreneurs?
How can we scale up the ideas of See, Solve, Scale?
How can we scale up the practice of Long Term thinking?
Join the conversation and be part of the solution.
The conversation will be held virtually using the Zoom platform. Login information and password will be provided to registrants prior to the event.
Thanks to a generous event sponsor, this event is Free.
Login begins at 7:00 p.m.; the conversation begins at 7:30 p.m.
Audience participation is encouraged.
About the speaker:
Danny Warshay (FRSA) is a Professor and Executive Director of the Nelson Center for Entrepreneurship at Brown University. He leads creative and thought-provoking workshops on entrepreneurship throughout corporate, academic, startup and governmental contexts throughout the United States, and in China, Egypt, Portugal, Bahrain, Slovenia, South Africa, Jordan, Palestine, Israel, the UK, and Jamaica. He began his own entrepreneurial pursuits while an undergraduate at Brown as a member of the startup leadership team of Clearview Software, which was acquired by Apple. He earned an M.B.A. from Harvard Business, and has co-founded and sold companies in fields ranging from software and advanced materials to consumer products and media. His course at Brown, The Entrepreneurial Process, has been recognized as the highest-rated course on campus.
On March 22nd, St. Martin's Press (Macmillan) publishes Danny's book entitled SEE, SOLVE, SCALE: How Anyone Can Turn an Unsolved Problem into a Breakthrough Success. It is available now for preorder.
We're proud and excited to welcome Danny to the Long Now Boston community.
We also thank the RSA US for promoting this event. Bill Davison and George Gantz, members of the Long Now Boston Board of Directors, are also fellows of the RSA, in addition to Danny.
>>>>>>>>>>>>>>>>>>>>>>>>>>>>>>>
Our event sponsor this month salutes Mike and Pete of www.2269.co for their leadership in imagining a thriving future worthy of a global celebration of imagination, exploration and progress --- on June 6, 02269.
Cambridge Innovation Center is an in-kind sponsor of this Long Now Boston conversation. We are very grateful for their support.
For information about event or corporate sponsorships, please contact info@longnowboston.org.