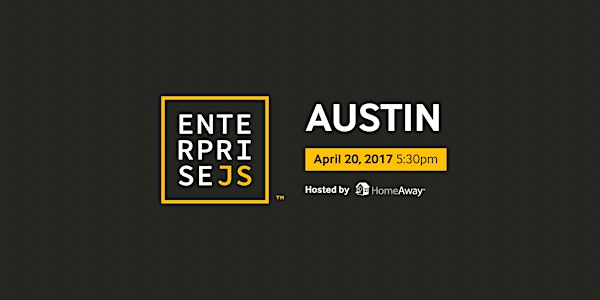 When and where
Location
HomeAway - Downtown Austin 1011 W 5th St #300 Austin, Texas 78703
Refund Policy
Contact the organizer to request a refund.
Description
Mark your calendars! EnterpriseJS is headed back to Austin, TX for an evening of food, drinks, and Node. Speakers from PayPal, XO Group, and HomeAway will share their stories, experience, and wisdom around Node.js for the enterprise.
Presentation topics include:
Universality with Rx, Redux and React
Justin Lowery - Tech Lead for Consumer Web Account Servicing, PayPal
Achieving next to perfect universality (aka isomorphism) in real-world, complex web-applications is hard, but worth the investment. This talk will focus on what we learned building our first, fully universal application at PayPal, and the technology we chose to unlock this potential. There will be code examples and advanced topics including: universal application design, unidirectional execution, functional programming, asynchronous and synchronous code, so don't forget your thinking caps!
About Justin:
I got my start at the turn of the century as a print designer interested in designing websites. My desire to build my own web designs led me to a long road of self-education in all things web-dev. In the early 2000's, that meant HTML, CSS and PHP, at least for me.
Once jQuery came out, and JavaScript was no longer an absolute pain for me to write, I focused on learning the quirky new language. What really sealed the love of JS for me was when Node started to come around. After that point, there was no turning back; I was a "full-stack JavaScript engineer" through and through.
Connect on Twitter: @cerebralideas
---
Node.js API Validation Using Joi - Adding Certainty to a Loosely-Typed World
Wes Tyler - Software Engineer, XO Group Inc
Simple data validation is an easy and often overlooked security measure when building APIs in Node. We will discuss how to implement data validation in a Node.js API using Joi for the request, response, and everything in between. We will start with basic API request/response validation using the Joi object schema description language. Then we will build upon that base by bringing Joi into the request handlers and database access layer to provide data validation inside of the business logic. Finally, we will finish by looking at how Joi and Felicity can be leveraged to provide both data models inside of the app as well as mock data for unit test.
About Wes:
I am a software engineer at XO Group where I spend most of my time writing Node.js microservices using Hapi.js. I wrote and maintain Felicity, and am an embarrassing Joi fanboy. I am also a ridiculously proud new dad and a huge coffee nerd.
Connect on Twitter: @westyler1
---
Save vs Death Magic: Operationalizing Node.js for Availability
Trevor Livingston - Principal Architect, HomeAway
The experience of running Node.js at PayPal and HomeAway's scale, requires careful planning and benefits from special tooling combined with robust application architectures. We will deep dive into how to optimize deployment architecture for effective error handling and fault detection across all systems to minimize or eliminate downtime. The patterns include circuit breakers and more.
About Trevor:
Trevor Livingston is a Principal Architect at HomeAway responsible for platform architecture and digital transformation — a force that countless enterprises are facing today. Trevor is a long-time Node.js developer and prior to HomeAway was the Node.js platform lead at PayPal, managing the KrakenJS team and Node.js operations. At HomeAway, Trevor brings his experience to help drive the adoption of Node.js at enterprise scale.
Connect on Twitter: @tlivings
Can't get enough Node.js? Bundle your registration for Node.js DevOps Training for Docker with your General Admission EnterpriseJS ticket.