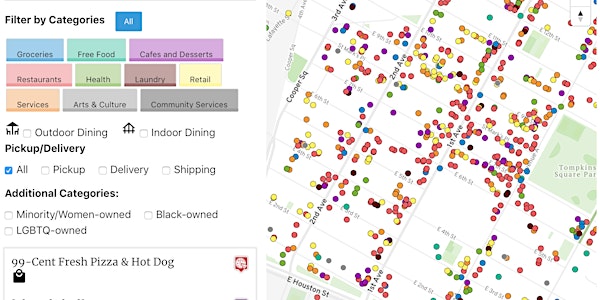 Engaging with the WhatsOpenEV.com Map
Check out the WhatsOpenEV.com map! This is a LIVE event on the Ave B Open Street (weather permitting). Please register to receive updates.
When and where
Location
Avenue B & East 10th Street 172 Avenue B New York, NY 10009
About this event
Built by BetaNYC & maintained by volunteers, this map has everything you need to safely Shop Local. We created the map to assist our community and support local merchants during the COVID-19 shutdown, when Google and Yelp were at a loss to keep up with all the changes. What started as a band-aid grew into a labor of love.
There's just no substitute for the info gathered by the eyes, ears and hearts on the ground. Find the latest hours, specials, fundraisers and more! Help support the local small businesses that keep the East Village special.