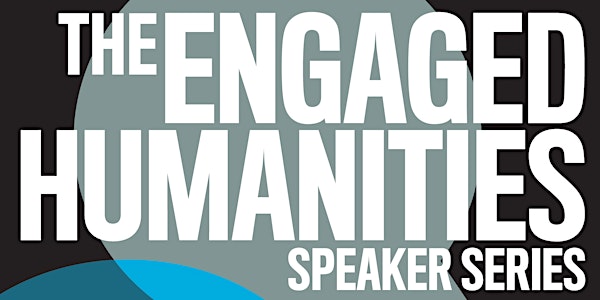 Multiple dates
Engaged Humanities Speaker Series (Fall 2019)
By JHU Sheridan Libraries | CER | AGHI | CSC
Date and time
September 17, 2019 · 12pm - November 20, 2019 · 1:30pm EDT
Location
3400 N Charles St Johns Hopkins University (Room # listed next to date below) Baltimore, MD 21218
Description
The Johns Hopkins University
Sheridan Libraries
, in partnership with the
Center for Educational Resources
, the
Alexander Grass Humanities Institute
, and the Center for Social Concern, is pleased to offer the Engaged Humanities speaker series. Lunch will be provided as we welcome visiting experts from various universities to discuss new developments in collaborative public humanities.


In recent years there has been a strong "public turn" within universities that is rekindling interest in community-based learning, cross-disciplinary alliances, and participatory approaches to research-creation.
Academic institutions increasingly approach their neighbors as partners in research and not simply objects of study.
Major funders, including t
he Andrew W. Mellon Foundation, now prioritize initiatives that "encourage the flow of knowledge from universities and institutes into their communities and from their communities into their institutions.
"
The "Engaged Humanities" speaker series
highlights this
shift in academic research from knowing about to knowing with,
focusing on
initiatives through which communities and universities work collaboratively to frame research questions, project design, and interpretation, with the goal of
generating social change.


Speaker series organized by Joseph Plaster, Curator in Public Humanities for the Sheridan Libraries.


All talks are open to the public, with lunch provided.

This event is free. Please register for any or all sessions above.


---
Sept 17 noon: Dr. Lawrence Brown, Morgan State University, School of Community Health and Policy, "Engaging Communities as an Embedded Researcher" (Clark 110)
Research institutions such as Johns Hopkins have a long history of predatory research practices with respect to Black communities in Baltimore—examples include the case of Henrietta Lacks or the Kennedy Krieger lead studies of the 1990s. University campus expansions via urban renewal and eminent domain have further damaged Black communities. Given this historical context, Brown asks, how can academicians engage in research that empowers and uplifts redlined Black communities?
---
Oct 11 noon: Dr. Brett Stoudt, The Graduate Center, City University of New York, "Researching at the Community-University Borderlands: Using Public Science to Study Policing in the South Bronx" (Malone 107)
Dr. Stoudt will present on the Morris Justice Project, a participatory action research (PAR) study in a South Bronx neighborhood of New York City designed to understand residents' experiences with and attitudes towards the New York Police Department. He will describe how a set of participatory, research-action, "sidewalk science" strategies—grounded in community knowledge/expertise—helped to challenge the ongoing structural violence of the carceral state.
---


Oct 23 noon: Dr. Stéphane Martelly, "What Does Sharing Authority Mean? Reinventing Memories and Traces Through Oral History" (Malone 107)
As time elapses since the end of the
Montreal Life Stories
project
(2012), it is now possible to reflect more deeply on the implications of such work. Thinking about voices and oral history, from the interview to the archive, this presentation will try to represent the arc of what sharing authority truly means when we try to center voices from the margins.
---


Nov 20 noon: Dr. Nicole King, University of Maryland, Baltimore County, on the Orser Center for the Study of Place, Community, and Culture (Clark 110)
"Baltimore Traces: Communities in Transition"

The

Baltimore Traces: Communities in Transition

project is a public humanities teaching innovation that brings together courses from a variety of disciplines to create projects focused on the complex history of Baltimore neighborhoods. The project explores how people who live and work in the city feel about change through cultural documentation projects, including digital walking tours, podcasts, public history zines, and short documentaries. Dr. King reflects on how we might think critically about principles of effective, ethical humanities research and teaching on Baltimore and cities like it.
---
FAQs
Do I have to bring my printed ticket to the event?
No. You will sign in upon arrival.
Is lunch provided?
Yes! Salad, wraps/sandwiches, chips, cookies and tea/water will be provided.
Where are the events located?
The talks will be held in Malone (#45) and Clark Hall (#18) on the campus map. Both are located at the Decker Quad, above the South Visitor Garage. The best GPS address to get to this location is 3101 Wyman Park Dr, Baltimore, MD 21218.

What are my parking options?
Visitors to Johns Hopkins University should park in the South Garage or metered areas surrounding campus. Parking in any other area, lot, roadway, or campus property may result in ticketing, booting and/or towing.
The South Garage which is underneath Mason Hall and accessed from Wyman Park Drive (between San Martin and Art Museum Drives). South Garage is open 24 hours a day and staffed from 8am to 6pm.
The exit gates accept paid entry tickets, exit vouchers and credit cards. The Pay Station is located in the vestibule next to the Parking Office.
Visitor Rates:
Up to 1 hour: $5

Up to 2 hours: $9

Up to 3 hours: $13

Up to 4 hours: $16

>4 hours: $19

Evenings after 3:45pm: $9

Weekends: $9
Hourly rates are in effect for overnight parking.
Who do I contact with questions/concerns?
Please contact Lacey Henry, Events Coordinator, Lacey.Henry@jhu.edu.