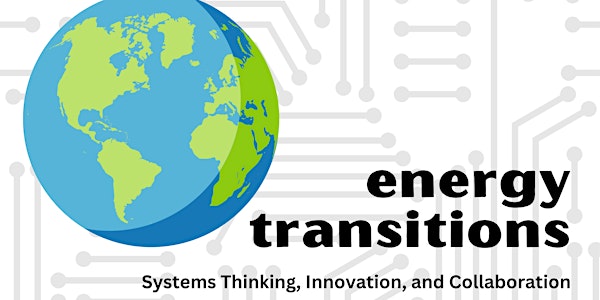 Energy Transitions: Systems Thinking, Innovation, and Collaboration
Achieving net zero emissions across the globe by 2050 requires safe, affordable, reliable, and environmentally responsible energy transition
By The Chicago Council on Science and Technology
Date and time
Wednesday, April 5 · 1:30 - 2:30pm PDT
About this event
This program is part of the IIT Distinguished Lectureship Series. Presented by Chicago Council on Science and Technology, IIT Wanger Institute for Sustainable Energy Research (WISER), and Armour College of Engineering Departments of: 
Chemical and Biological Engineering; 
Civil and Architectural Engineering; 
Electrical and Computer Engineering;
Mechanical, Materials, and Aerospace Engineering
Dr. Paula Gant and Dr. Derek Wissmiller will discuss GTI Energy's efforts in driving the development, deployment, and adoption of low-carbon, low-cost energy systems at scale. Dr. Gant and Dr. Wissmiller will discuss the value of systems thinking, innovation, and collaboration in solving significant problems across energy value chains. Their presentation will highlight the impact that can be realized when diverse groups of stakeholders convene and collaborate to de-risk the advancement of new technologies and experiment with new operating paradigms. From the laboratory bench to the real world, GTI Energy allows organizations to learn together to accelerate progress on economy-wide decarbonization.
EVENT DETAILS - HYBRID (In-person and online)
Wednesday, April 5th from 3:30-4:30 pm CT via Illinois Tech YouTube and in person on the Illinois Tech campus: Rettaliata Engineering Center, Room 104, 10 West 32nd Street, Chicago, Illinois 60616
To access the live program, click here
You may also participate in the chat Q&A session at a link to be added here on 4.3.2023
FEATURED SPEAKER
Paula Gant, Ph.D.
Dr. Paula Gant is President and CEO of GTI Energy, a leading research and training organization focused on developing and scaling low-carbon, low-cost energy transition solutions. She is passionate about building collaborative teams, aligning innovation with impact, and convening diverse stakeholders to solve consequential energy system challenges. With two decades of experience in leadership roles at the U.S. Department of Energy, American Gas Association, and Duke Energy Corporation, Dr. Gant is an established and respected thought leader in energy systems, markets, and security spaces. She graduated from McNeese State University in Louisiana and Auburn University in Alabama.
FEATURED SPEAKER
Derek Wissmiller, Ph.D.
Dr. Derek Wissmiller is the Director of Energy Systems Modeling at GTI Energy. He drives efforts to evaluate the environmental and economic impacts of technology solutions in transitioning energy systems. Derek also leads GTI Energy's Independent Research & Development (IR&D) program, launching innovative and impactful early-stage technology concepts. Derek's passion for advancing low-cost, low-carbon technologies is underpinned by a diverse breadth of experience in cultivating partnerships, managing R&D programs, leading teams, and promoting technical excellence. Derek is a graduate of Iowa State University (Ph.D.), University of Wisconsin-Madison (MS), and Illinois State University (BS).
This event brought to you in partership with