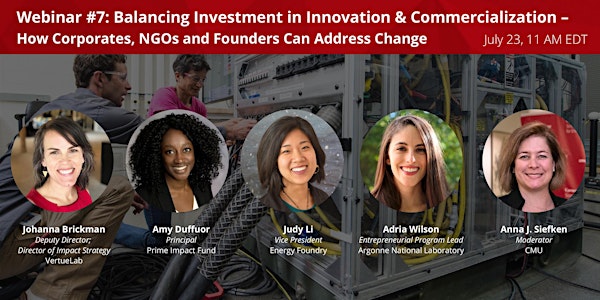 Energy, Resilience, and COVID-19 – Pivoting in 2020: Webinar #7
Balancing Investment in Innovation & Commercialization – How Corporates, NGOs and Founders Can Address Change
About this event
A Zoom Webinar link and password to join will be provided upon registration.
As we tackle the complexities of major social disruptions, how are innovators still driving impact as they rescale and accommodate to a changing society? Join us as we discuss best practices to adjust contingency planning amidst conflict and the effects of intersectionality on cleantech investing. You'll hear from the following experts:
Johanna Brickman, Deputy Director; Director, Impact Strategy - VertueLab
Amy Duffuor, Principal – Prime Impact Fund
Judy Li, Vice President - Energy Foundry
Adria Wilson, Entrepreneurial Program Lead, Chain Reaction Innovations – Argonne National Laboratory
This discussion will be moderated by CMU Scott Institute for Energy Innovation Executive Director Anna. J. Siefken.
The Wilton E. Scott Institute for Energy Innovation at Carnegie Mellon University launched a webinar series "Energy, Resilience, and COVID-19 – Pivoting in 2020." The series highlights insights from research, industry and innovation related to how COVID-19 is impacting the way we will do business, and what it means to the energy systems we rely upon.