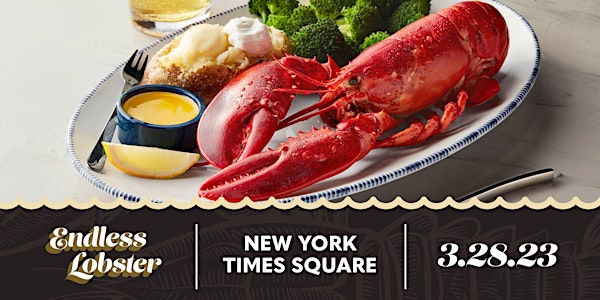 Endless Lobster at New York Times Square Red Lobster
Lobster lovers, rejoice! We're hosting the FIRST-EVER ENDLESS LOBSTER EVENT at our New York Times Square location on Tuesday, March 28, 2023
Location
Red Lobster Times Square 5 Times Square New York, NY 10036
About this event
Hit that ticket button to secure two (2) seats at this totally Lobsessed event where you can sink your claws into as many FREE* 1 ¼-pound Live Maine Lobsters as you can handle. Served with broccoli, your choice of one (1) side and warm, melted butter to show off your dunk skills. The first-ever Endless Lobster event will be the perfect way to kick off the start of spring and warmer weather ahead.
Choose between three seating options and snag your seats — hurry, there are a limited number available:
11 am – 1 pm Seating Window
1 pm – 3 pm Seating Window
3 pm – 5 pm Seating Window
Frequently asked questions
When is this event happening?
How many people can attend this event?
How can I reserve my seat?
Why New York? Will Endless Lobster ever come to my city?
Is it really free endless lobster?
Is it only endless lobster or is it also endless broccoli and side dishes?
What are the options for side dishes?
What if I want to attend this event by myself?
What if I want to attend with more than one other person?
What if I can't attend during the seating window I selected? Can I give my tickets to someone else?
Can I redeem my free Rewards during this event?
Can I take any of my leftovers to go?
About the organizer
At Red Lobster, everything we do is a celebration of seafood – from how we source our fish and shellfish to serving up new ways for you to enjoy it. Since 1968, we've been committed to bringing you a seafood experience you won't find anywhere else.