We are bringing together leading aging researchers and biotech investors for an action-packed ONLINE event.
About this event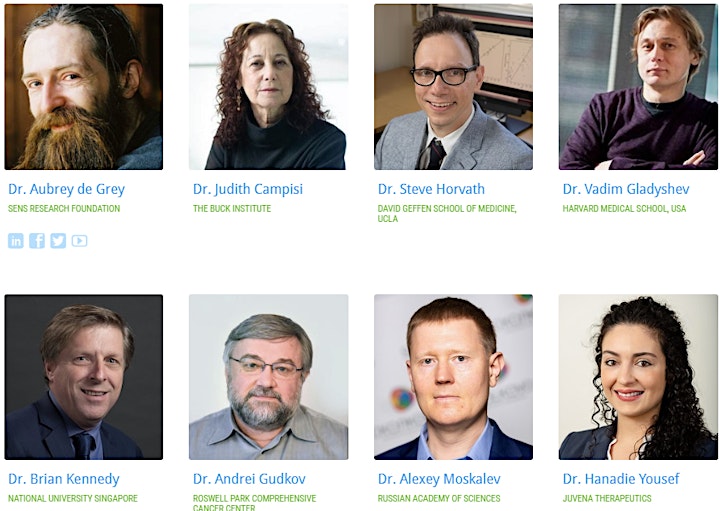 SUPPORTING AGING RESEARCH
Our Third Conference
We are happy to announce our third Ending Age-Related Diseases: Investment Prospects & Advances in Research conference! This time, we will be meeting on August 20-21 online!
The COVID-19 pandemic is affecting all walks of life and threatens the eldest among us most of all. It reminds us once again how important is our collective work in developing therapies to address the root mechanisms of aging, and thereby reversing age-related damage and frailty.
We are bringing together thought leaders in the rejuvenation industry to foster scientific and business collaborations in order to accelerate the development of therapies that target the root causes of aging. Join us online for two days packed with insightful talks about how we can end age-related diseases more quickly! Registration is now open, and you are welcome to take advantage of the Early Bird ticket price.
WHAT'S NEW IN 2020?
The main event of over 16 hours of research presentations and discussion panels that offer the latest and most relevant updates from the field
Interviews with thought leaders in the longevity field and online poster sessions to showcase up-and-coming research projects
Networking features that will allow you to engage in Q&A sessions with the speakers and interviewees, participate in polls, and interact with other participants throughout the event while still being present for the action
Access to presentation materials and exclusive early access to videos of all the sessions shortly after the event. This is perfect if networking or other concerns cause you to miss a presentation!
All of this will be available in the safety and comfort of your home, wherever you are.
MAKING EARD 2020 MORE AFFORDABLE
For this event, we offer a choice of two ticket options:
A $500 premium ticket that will allow you to have access to all of the main event content and recordings, participate in polls and Q&A, and join the open chats and open video discussions. On top of that, it will allow you to interact with the researchers over breakout sessions as part of the premium networking program.
A $300 regular ticket that will give you access to all of the main event content and recordings and will allow you to participate in polls, open chats, and discussions.
Our regular supporters, the Lifespan Heroes, have a 20% discount that does not have an expiration date. If you are a Lifespan Hero, please contact Steve Hill for your special discount code.
Upgrade Tickets - If you have already purchased a standard ticket and wish to upgrade to a premium please consult the instructions here.
If you are interested in sponsorship or are a member of the press, please contact Elena Milova to discuss your participation.
All proceeds from the conference will be directed to expand Lifespan.io advocacy initiatives, including our news outlet, crowdfunding, LifeXtenShow, and Longevity Investor Network. By buying your ticket for the conference, you are also helping us to advocate for aging research on a larger scale!
Ready to register? Do it now!
HOW CAN YOU BENEFIT FROM ATTENDING?
If you are a researcher: EARD2020 offers you the opportunity to get an overview of what is going on in various areas of aging research and discuss promising directions and potential blind spots with your peers. Our common goal is to ensure that all bases are covered as we get closer to the possibility of bringing all age-related diseases under medical control.
If you are a longevity supporter: We feature the most up-to-date studies on aging and rejuvenation, and we are creating a considerable amount of educational content to help you keep track of new developments, understand the science behind various interventions against age-related diseases, and build your own reliable longevity strategy. On top of that, being among like-minded people and exchanging insights is refreshing!
If you are an investor: EARD2020 will feature leading researchers and biotech companies, so you will be able to scout for currently promising opportunities for investment. Detailed presentations will also improve your understanding of longevity science, which will help you navigate the field more easily in the future. There will be talks and a panel discussion that will include investors sharing their experiences of working in this nascent industry.
If you are the head of a biotech company: You are welcome to apply to speak at the conference or to support it as a sponsor. In either case, we will do our best to make your company more visible to the longevity community during and after the event, to help you find new partners. Secure your ticket now and join us for an amazing two days of longevity science!
We hope to see you soon (virtually!)