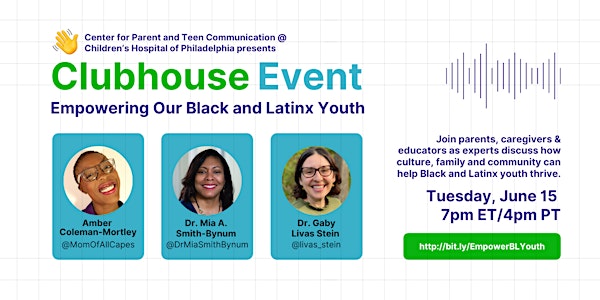 Empowering Our Black and Latinx Youth
Presented by Center for Parent and Teen Communication @ Children's Hospital of Philadelphia
About this event
Please join fellow parents, caregivers, educators and allies as experts discuss how culture, family and community can help Black and Latinx youth thrive.
Featuring: Amber Coleman-Mortley, Dr. Mia Smith-Bynum & Dr. Gaby Livas Stein
The conversation will cover the value of adult caregiver-teen relationships, the importance of using ethnic pride to build self-esteem, the unique stressors faced by Black and Latinx youth, and the strengths that exist within community and culture that have become even more important in the current moment.
RSVP (for reminders) & join us in the Clubhouse app* for this live event on Tuesday, June 15th @ 7pm ET/4pm PT**
*This event will take place on Clubhouse, which can be accessed via iOS and Android on your smart phone.
**The conversation will run approximately 70-75 minutes
MEET OUR EXPERT PANEL:
Moderator:
Amber Coleman-Mortley - A podcaster, parenting expert, and civic evangelist, Amber's work centers around elevating diverse voices and perspectives in the civic education space, and working with students, educators and parents for more equitable outcomes. She holds a B.A. in African American Studies from Oberlin College and an M.A. from American University in Media Entrepreneurship.
Twitter/Clubhouse: @MomOfAllCapes
Panelists:
Dr. Mia Smith-Bynum - An Associate Professor of Family Science in the School of Public Health at the University of Maryland, College Park. A clinical psychologist by training, Dr. Smith Bynum is an expert in African American mental health, family interaction and communication in ethnic minority families, parenting and racial identity. She also has expertise in adolescent mental health, adolescent sexual behavior and parent-adolescent communication about difficult topics.
Twitter/Clubhouse: @DrMiaSmithBynum
Dr. Gabriela Livas Stein - A Professor of Clinical Psychology at UNC Greensboro and Director of the Caminos Lab. Her research investigates risk and resilience processes in Latinx families with a focus on familial cultural values. Dr. Stein's research also examines access to mental health care in Latinx communities.
Twitter/Clubhouse: @livas_stein
Featured CPTC content by Dr. Mia Smith-Bynum:
ABOUT CENTER FOR PARENT AND TEEN COMMUNICATION @ CHILDREN'S HOSPITAL OF PHILADELPHIA
The Center for Parent and Teen Communication helps parents raise teens prepared to thrive. Adolescence is a time of opportunity and parents matter more than ever. We strive to ensure every caring adult has the knowledge and skills to promote positive youth development and foster strong family connections. Sign up for our newsletter to gain practical tips for parenting teens today!
Join us on social media @parentandteen