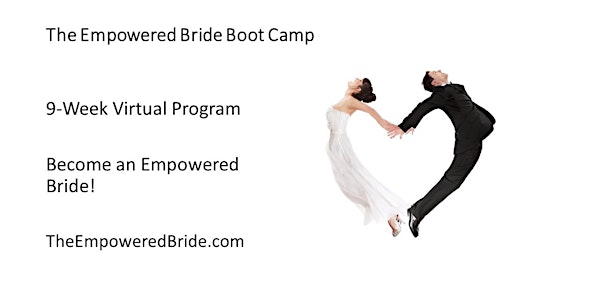 Empowered Bride Boot Camp
Refund policy
Refunds up to 1 day before event
Description
The Empowered Bride Boot Camp Registration Page
The Empowered Bride Boot Camp, a 9-week program, is a virtual system of support, which allows you the opportunity to connect with other brides, to talk about crucial topics that will affect your wedding day and your marriage, and to get some personal coaching from an experienced Life and Relationship Coach.
The program includes 2 private coaching sessions with Monica, 7 webinars (see topics below), 3 Q & A call-in sessions, a private Facebook group, and access to all materials from a virtual platform. All webinars and calls will be recorded so you will never miss a thing. (See schedule at the bottom of the page),
Also, we will have 2 in-person Empowered Bride events later in March, which will be announced once the group is formed.
​As a bonus, you will have an open invitation to attend any of my coaching classes at The Inner Work Training Center in Shelton, CT until May 1. For example, Break Free From the STOP Syndrome: Real Strategies to Overcome Stress, Tension, Overwhelm and Procrastination. (March 20 and 27, 6:30-8:30 pm).
The bottom line is that you will feel heard and supported, and you'll gain some great new tools and strategies to make your wedding planning journey much more fun and a lot less stressful!
​Topics that will be covered in this program will include:
Wedding Plans: Identify what you want; your "must haves" and "won't tolerate", and discuss the issues that keep you up at night, which may include budget, guest list, wedding party, vendors, and executing the right plan.

Family/Friend Dynamics: Find strategies and conversation starters to assert your needs and create a harmonious team that will be there for you for years to come, especially when multiple expectiations, traditions, and values come to the forefront.

Personality styles: Introvert or Extrovert, Free Spirit or Task. Your in-born personality style may be the exact opposite of your spouse and your family. It will effect all aspects of your lives together. We'll take a peek into the world of the Peoplemap System to help you understand yourself and others better. We'll also do a character survey and discuss what things show up as important hot topics for you.

Build a Lasting Relationship: Focusing on strategies to have a positive and happy marriage over the long haul, we'll lay the foundation for open conversation and the deepest levels of understanding. We can cover it all – from core values of your marriage and the how-to's of managing conflicts, to exploring the 8 positive antidotes that wipe out toxic emotional behaviors in any relationship.

Ways to manage and prevent stress: Find personalized ways to maintain your energy, your sanity, and your feeling of control over the duration of your wedding planning and beyond.

Organization and Time Management: There are lots of tips and tricks to make this giant "project" successful and with a lot less anxiety and overwhelm!
I hope you'll join us!
Schedule:
Tuesday evening live webinars: 7-8:30 pm, January 23 and 30, February 6, 20, and 27, and March 6 and 13th. (I will repeat on Saturday afternoons if there is a need).
Call-ins: Noon on Feb 1 and 10, and 7pm March 8. I'll do more if there is a request for them.
Use Promo Code "Early50" to get $50 off if you register before midnight on March 13th. I need time to send you information and to set up our first coaching session!
Please reach out to me if you have any questions or concerns prior to registering:
CoachMonicaLeggett@gmail.com
203-209-5462