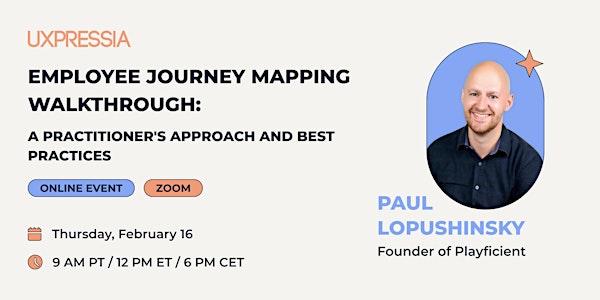 Employee Journey Mapping Walkthrough: A Practitioner's Approach
Walk through a practical example of building an employee journey map with a practitioner
When and where
Date and time
Thursday, February 16 · 9 - 10am PST
About this event
Organizations use employee journey mapping to understand and improve the many stages of an employee's journey throughout the organization.
An employee journey map can help organizations align with employee expectations and needs.
There are many challenges to building out an employee journey map. This includes:
Receiving feedback from employees.
Identifying the areas and scope to focus on.
Determining which areas of the employee experience need improvement.
Difficulty in measuring the impact of an employee journey map.
Learning through practical examples is one of the best ways to gain an understanding of a process.

Working through an employee journey map will help you understand the following:
Identifying what area(s) to work on and what persona(s) to focus on.
How to conduct interviews to identify pain points.
How to identify patterns of findings and pain points.
During the event, Paul Lopushinsky, founder of Playficient, will work through a practical example of building an employee journey map by navigating through the map that comes from a cumulation of past client work and best practices.
📄 In this talk, Paul will address key questions:
"How can we research the employee journey considering employees might be uncomfortable sharing?"
"How can organizations measure the effectiveness of their employee journey mapping initiative?"
"What KPIs should you use?"
"How do we turn the employee journey map into actionable steps?"
The session will be followed up with the Q&A, so make sure to join live 😉
🎤 About the speaker
Paul Lopushinsky is the founder of Playficient, a consultancy helping organizations cut through the bull and focus on what matters in the employee experience.
Areas of focus for Playficient include the following:
Employee journey mapping
Improving the employee onboarding experience
Using Design Thinking to build better employee experiences
Create more playful cultures that don't rely on a fancy tech office that better resembles a kindergarten class or forced fun
About organizers
UXPressia is an all-in-one cloud solution for understanding customer, user, and buyer experience, engaging teams, and driving successful digital transformation. Visualize your customers' journeys, create personas and impact maps, analyze touchpoints in multi-channel interactions, and invite teammates to collaborate in real time. Export designer-quality maps and personas and present them right from your browser online.
Agenda
6:05 PM - 6:45 PM
Paul Lopushinsky on Employee Journey Mapping
6:45 PM - 7:00 PM
Q&A session
Frequently asked questions
Will this event be recorded? Can I get a replay?
Where will the event take place?
Will there be automated captions?
About the organizer
UXPressia's goal is to create a community of people passionate for improving customer and user experience through analyzing customers, their behavior, and implementing the results of the research in their products and services.
During the events, our team and industry experts teach others to create and implement Human-Centred Design tools as well as encourage speakers and participants to have discussions and work together on group projects.