Description
You're invited to the world's biggest online conference for Affectiva developers. Come learn the latest techniques for giving your software EQ!
Emotion AI Developer Day will bring together the largest remote conference of emotion recognition developers in the world, including Affectiva staff, affective computing thought leaders and companies offering complementary technologies. Emotion AI Developer Day will provide opportunities for attendees to learn, as well as to help shape the future of Affectiva. Secure your spot now by registering today!
For Emotion AI Developer Day related news please follow us on Twitter: @Affectiva #emodev16
We'd like to highlight a few key things you need to know:
Developer Day has two tracks with presentations running simultaneously. Have a look at the schedule below to decide what presentations you would like to attend. Just click on the WebEx link associated with each track to get into the presentation.

Track 1: Rana el Kaliouby, Jay Turcot, Forest Handford, Umang Mehta, Nick Bonfatti, Abdelrahman Mahmoud, Jason Radice and Tim Peacock - WebEx Link: https://affectivawebinars.webex.com/affectivawebinars/onstage/g.php?MTID=e8aa28ad285330ca6459e3c6cb1f03341

Track 2: Toby Cabot, Sam Spaulding, Dave Vockell, Erin Reynolds, Antonio Torralba and Boisy Pitre - WebEx Link: https://affectivawebinars.webex.com /affectivawebinars/onstage/g.php?MTID=e037579e7c18e9d6726f5661daa4d9393


Please Note: You may be asked to download WebEx once you click to join. If you have any trouble, please send us an email at devday@affectiva.com
Once you join a presentation on WebEx, please make sure to mute your microphone.
If you have any questions for the speaker, please submit your question on the Q&A section of the WebEx interface (lower right hand corner).
Here is the final schedule for your convenience (all times are in Eastern Standard Time):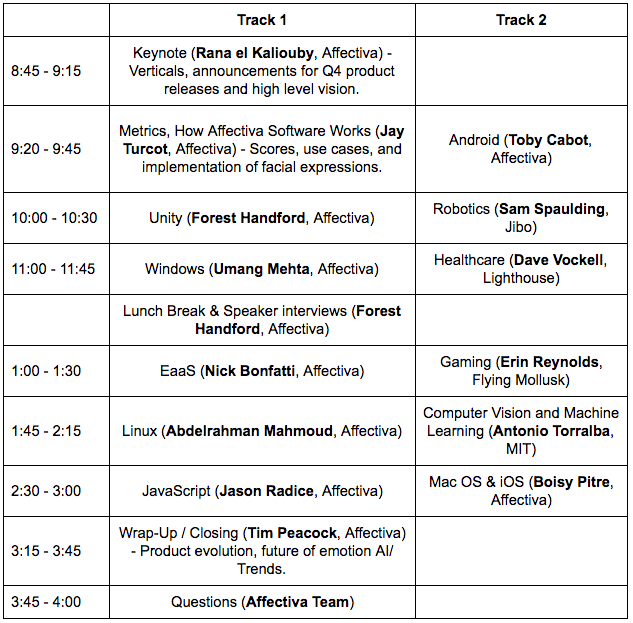 Speaker Bios: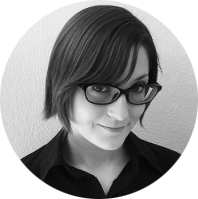 Erin Reynolds, Flying Mollusk - Erin Reynolds, an award winning game designer, is the Creator of the biofeedback-enhanced game Nevermind. She has diverse experience spanning the past 10 years in developing games within a variety of environments, including as a developer, publisher, academic, and indie. Reynolds graduated from USC with a BA in Fine Arts in 2006 and returned to USC to explore the potential of positive games, earning her MFA in Interactive Media in 2012. She is passionate about the potential games have to empower, educate, and inspire players of all kinds and to make the world a better, more playful place. To this end, she founded the game studio Flying Mollusk to further pursue these ambitions.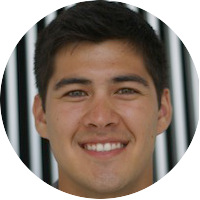 Sam Spaulding, Jibo - With teams at Yale University, Walt Disney Imagineering R&D, and the MIT Media Lab, Sam Spaulding has helped develop some of the world's most advanced interactive social robots, capable of perceiving, understanding, and adapting to human emotions. His academic research has been presented at numerous international conferences and has been recognized by an NSF Graduate Research Fellowship, a Human-Robot Interaction Pioneers award, and research grants from the Mellon Fund and Sigma Xi scientific society. In 2010, he appeared on the popular TV quiz show Jeopardy!, and shortly after, watched IBM's celebrated "Watson" system defeat the two greatest Jeopardy! champions of all time, sparking a lifelong fascination with A.I. and its impact on humanity. Sam currently works as a Character AI Engineer at Jibo, Inc., a venture-backed startup working to develop the world's first social robot for the home.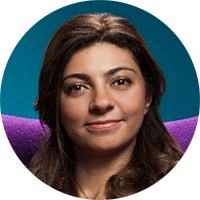 Rana el Kaliouby, Affectiva - A pioneer in emotion recognition technology, Rana co-founded Affectiva. Prior, at MIT Media Lab, Rana spearheaded the applications of emotion-sensing and facial coding. She was recognized by Entrepreneur as one of 7 Most Powerful Women To Watch In 2014, inducted into the Women in Engineering Hall of Fame, and recipient of Technology Review's Top 35 Innovators Under 35, Ad Age's 40 under 40 awards and recipient of Smithsonian magazine's 2015 American Ingenuity Award for Technology. Rana holds a Ph.D. from the computer laboratory, University of Cambridge. Her work has been widely covered by the media.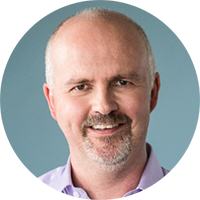 Tim Peacock, Affectiva - Tim is COO of Affectiva. Tim has over 25 years experience leading product development, product strategy and management, engineering, and operations. Over the last 17 years, Tim has built and led engineering teams at SaaS startups including ChoiceStream, Sermo, DirectoryM and Intranets.com. Previously, Tim spent 8 years at Lotus, where he led development of Lotus 1-2-3. Tim has a B.Sc. in Computer Science and Engineering from MIT.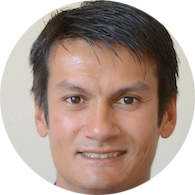 Jay Turcot, Affectiva - Jay Turcot is Affectiva's Director of Applied AI and heads the research team at Affectiva.
He is one of Affectiva's longest tenured employees and wrote the first version of the facial expression software. Lately he's been spending his time thinking about the current and future directions of emotion recognition technology. He loves computer vision, machine learning, windsurfing, backcountry skiing, and of course long walks on the beach.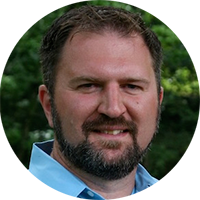 Boisy Pitre, Affectiva - As Affectiva's Emotion AI Evangelist, Boisy advocates and promotes the adoption of the company's emotion-based artificial intelligence technology across all of its supported platforms. He developed Affectiva's SDK that developers can use to emotion-enable their apps and digital experiences. Having delivered the only emotion-sensing and analytics SDK for mobile devices that is available today, Boisy has pushed the boundaries of innovation in emotion tech and is now focussed on continuously advancing Affectiva's technology on mobile platforms such as iOS and Android. Boisy holds a Master of Science in Computer Science from the University of Louisiana at Lafayette.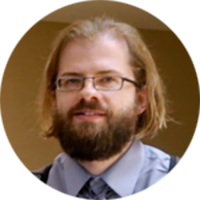 Forest Handford, Affectiva - Forest works as the Games Evangelist at Affectiva where he has brought emotion-sensing capabilities to Unity via an asset. Forest is a prior board member of the Boston chapter of the Independent Game Developer Association, Boston Post Mortem. His website is EastCoastGames.com , where he publishes videos and writing about various topics, including game development tutorials. The source code for several of his games can be found on github.com/ForestJay. Forest is the co-inventor of US patent 6,758,746, for player customization of online games.
FAQs
Are there ID requirements or an age limit to enter the event?
No, all ages are welcome.
Where will the event will be held?
Developer day is an online event. You connect to the conference from the comfort of your own home/office/cafe. We will post links to the conference tracks closer to the event.