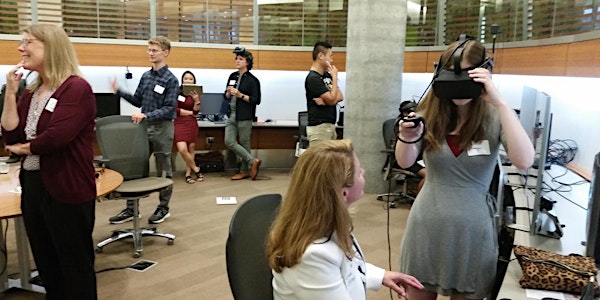 Emerging Tech Hub Virtual Showcase
Description
The Emerging Tech Hub Showcase at the Wisconsin Institute for Discovery on April 28 is going virtual! RSVP for this online Zoom session for highlights from projects students have been working on in predictive analytics, sports tech, and augmented reality and hear about real-world applications for new tech from University of Wisconsin-Madison experts and innovative companies including Hyper Innovation, Holos, and Cockpit Mobile.

You may log in for the event starting at 3:50 pm CT or plan to connect at one of the transitions/breaks noted below in the agenda for specific segments.
Your company can also become a part of the Member Network at the Emerging Tech Hub Wisconsin Institute for Discovery - University of Wisconsin-Madison which includes options for brand visibility at showcase events, taking part in nominating challenges, learning from report-outs from the private Trendspotter's Forum, and company-wide talent development and learning through industry work groups and Summit events (both virtual and, in the future, in-person).
Contact info@hyperinnovation.com with questions about the showcase or the Member Network at the Emerging Tech Hub.
---

HyperX Madison is a multi-disciplinary, student-run organization for hands-on experience with new technologies and innovation and is hosted at the Emerging Tech Hub. HyperX welcomes support and sponsorships from corporate and other entities for events like these through the Member Network at the Emerging Tech Hub.


---

Agenda:
4:00-4:10
Welcome and Introduction to the Emerging Tech Hub and HyperX

4:10-4:25
Predictive Analytics for Injury Risk Reduction and Performance Optimization in Sports
(Lillian Stenz, UW-Madison Senior, Kinesiology)


4:25-4:30
Break/Transition

4:30-4:45
Making Finding Your Way Easier with Clairvo Augmented Reality and Location-based Services
(Michael Gira,UW-Madison Freshman, Computer Science and Jack Cai, Freshman, Computer Engineering)
4:45-4:50
Break/Transition

4:50-5:05
Learning by Doing, Not by Lecture
(Tyler Waite, COO, and Dan Borkhus, CEO, Holos)

5:05-5:10
Break/Transition
5:10-5:25
Deepening Engagement and Participation in Virtual Events with Mobile Platforms
(Brandon Humboldt, CTO, Cockpit Mobile)
5:25-5:30
Closing and Next Actions
---

Stay tuned for plans for Fall 2020 which include Challenges in the Future of Digital Health and Innovation in AgTech. Some other projects planned for Fall 2020 include:
AI and machine learning to reduce injuries in workplaces, sports, and healthcare settings
AR navigation and indoor location services to improve experience in retail and other venues
VR to identify non-medicinal modes of addressing mental health issues
VR and developing multi-player modes to create new public interactions and experiences
An algorithm to create more effective modes of stock trading
"Slack for locations" mobile app to enhance remote worker productivity
VR to increase engagement and retention of content in training settings
Data immersion in VR to identify new ways of visually interacting with data sets