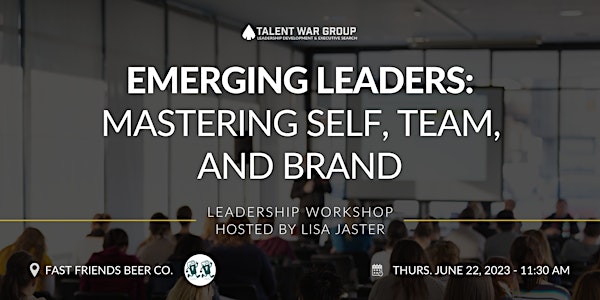 Emerging Leaders Workshop: Mastering Self, Team, and Brand with Lisa Jaster
Ready to lead the future? Sign up for Emerging Leaders: a dynamic workshop on self-awareness, mentorship, culture & personal branding.
Date and time
Thursday, June 22 · 11:30am - 4:30pm CDT
Location
Fast Friends Brewery 7313 North Interstate 35 Frontage Road #NB Austin, TX 78744
About this event
Hosted by Talent War Group's Sr. Leadership Development Consultant, best-selling author, and United States Army Reserve lieutenant colonel, Lisa Jaster, Emerging Leaders is an immersive leadership workshop designed to equip aspiring leaders with the skills and strategies necessary to excel in the modern workplace.
This workshop features four comprehensive modules that focus on mastering self-awareness, fostering effective mentorship, impacting organizational culture, and building a powerful personal brand. providing a comprehensive framework for professional growth and success.
----
WHAT'S INCLUDED:
4-module workshop with a Q&A session with Lisa Jaster
A signed copy of Lisa Jaster's best-selling book, "Delete the Adjective: A Soldier's Adventures in Ranger School"
Lunch catered by Fast Friends Brewery
Happy hour post-workshop (bites and 2 drink tickets included)
----
THE WORKSHOP:
Module 1 - Know Thyself: Delve into self-discovery and understand your unique value. Learn how to assess your future potential against past performance, openly discuss sensitive topics, communicate failures, and strategize for internal progression as you advance in your career.
Module 2 - Mentorship Matters: Unlock the benefits of mentorship by learning how to identify and connect with mentors aligned with your goals. Explore the nuances of internal and external mentorship, find support within your organization, and acquire the skills for vetting and reaching out to potential mentors to build strong, supportive relationships.
Module 3 - Impacting Culture: Address the challenges faced by emerging leaders and learn how to make a difference in your organization's culture. Understand the importance of financial responsibilities, manage work-life balance, recognize the value of informal interactions, and navigate unspoken expectations.
Module 4 - Build Your Brand: Develop a powerful personal brand that sets you apart. Learn how to gain fiduciary responsibility early, create compelling self-marketing strategies, and establish individual development plans that will propel your career forward.
Join us at "Emerging Leaders: Mastering Self, Team, and Brand" to enhance your leadership skills, expand your professional network, and accelerate your journey toward becoming a successful and influential leader.
---
About Lisa Jaster:
Lisa Jaster is a Senior Leadership Development Consultant at Talent War Group, and best-selling author of "Delete the Adjective: A Soldier's Adventures in Ranger School".
Lisa Jaster is a West Point Academy graduate with a Bachelor of Science in Civil Engineering. She was commissioned as an active duty engineer officer and deployed in support of Operation Iraqi Freedom in 2003, serving as a company executive officer and later as a battalion operations construction officer. Lisa attended the Army Engineer Officer Advanced Course at Fort Leonard Wood, MO, and earned her Master of Science in Civil Engineering from the University of Missouri-Rolla in 2004.
After leaving the active army, Lisa worked at Shell Oil Company for 12 years. In 2015, she took a six-month leave of absence and successfully completed Army Ranger School, being one of the three females to graduate from the first integrated Ranger School course.
Lisa is married to a fellow reserve officer and is a mother of two. She enjoys an active lifestyle, competing in various activities such as ultra trail runs and CrossFit competitions. Lisa is passionate about martial arts, particularly Jiu-Jitsu, and is always seeking new challenges to take on.
Frequently asked questions
What is your refund policy?
Can I receive a group discount?
How many people will be attending?
What does the virtual option include?