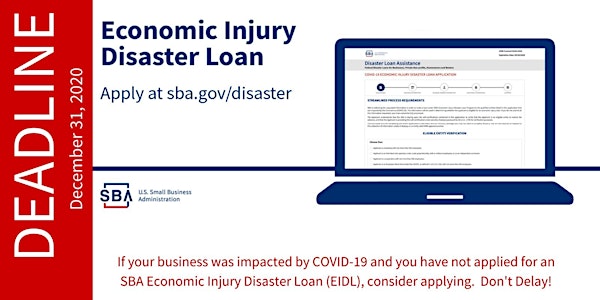 EIDL, What is it and how to successfully apply!
Want to know more about EIDL? Do you have an application in, but have questions or concerns? Then this is the presentation for you!
About this event
It is no secret that the COVID-19 pandemic has had major impacts on small businesses worldwide. With the uncertainty of when COVID 19 will slow, and without knowing what the long-term effects will be on our economy many business owners are feeling the frustration and the squeeze of those economic impacts to their bottom lines.
The Economic Injury Disaster Loan (EIDL) is here to help relieve some of those stressors and to provide the capital businesses need to aid in their recovery efforts by providing borrowers with working capital to meet ordinary and necessary operating expenses.
The application deadline is quickly approaching, December 31, 2021, and at the SBA Portland District Office we want to make sure that our Oregon businesses know that they have access to this oportunity, and the resources and knowlege to successfully apply.
With over 20 million applications to the EIDL, we understand that some bsuinesses may be expereincing challenges related to their loan aplications or loan modifications. During this presentation we will address the most common mistakes we are seeing and how to overcome them, provide resources for who you can contact for assistance, and also allow for an open Q&A to address individual concerns.
We hope to see you there!