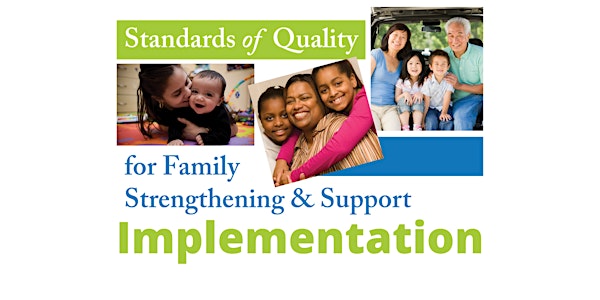 Effective Program Implementation of the Standards of Quality
Two Programs will present on the effective implementation of the nationally-adopted Standards of Quality for Family Strengthening & Support.
By National Family Support Network
Date and time
Wednesday, February 22 · 11:30am - 12:45pm PST
About this event
What steps have Programs taken to implement the Standards?
What difference has implementing the Standards made for Programs?
What have been the challenges, successes, and lessons learned from Standards implementation?
This webinar will highlight how a community-based Program in Colorado and a school-based Program in Kentucky have successfully utilized the nationally-adopted Standards of Quality for Family Strengthening & Support to enhance their work. Both Programs have seen a difference in relation to advancing Diversity, Equity, and Inclusion, guiding continuous quality improvement, and achieving positive results for families. Presenters will detail the impact of the Standards on their overall programming as well as on particular components, such as the Bowling Green Family Resource/Youth Services Center's Black Male Scholar Family Thrive Program.
Context
If you are not yet familiar with the Standards, prior to participating in this Webinar Wednesday, you are encouraged to watch the recording and access the materials from the January 11, 2023 Overview of the Standards of Quality for Family Strengthening & Support, which can be accessed here.
Developed by Family Strengthening and Support organizations and networks, funders, and parent leaders in the U.S. and Canada, the Standards are based on the Principles of Family Support Practice and the Strengthening Families Framework and its research-based evidence-informed 5 Protective Factors. They have created a common language across different kinds of Family Strengthening and Family Support programs such as Family Resource Centers, home visiting programs, and child development programs. They are used as a tool for planning, providing, and assessing quality practice by public departments, foundations, networks, community-based organizations, and families.
The Standards address 5 critical areas of practice for any Program or individual working with families - Family Centeredness, Family Strengthening, Diversity, Equity, and Inclusion, Community Strengthening, and Evaluation. There are 15 Standards, each with Foundational and High-Quality Indicators and implementation examples. The Standards and all their implementation tools are available for free download here.
Please note that this webinar is separate from the Standards Certification Training that more than 14,000 people have successfully completed across the U.S. and Canada. Please see the Certification Training page on the NFSN website for upcoming offerings provided both by the NFSN and its Member Networks.
Recommended Participants
National, state/provincial, and local policymakers, public departments, Children's Trust Fund staff, private funders, Family Resource Center Network leaders and representatives, Family Support Program management staff, Family Resource Center staff.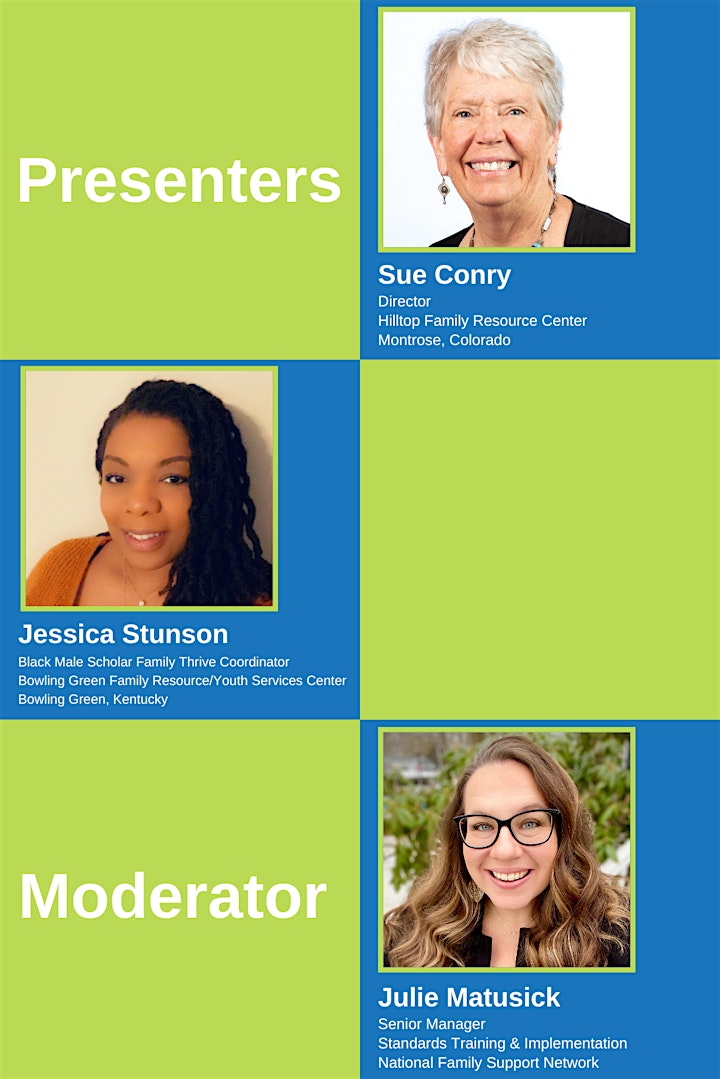 Webinars Wednesdays
The National Family Support Network's free Webinar Wednesdays series raises awareness of Family Resource Centers, Family Resource Center Networks, and the nationally-adopted Standards of Quality for Family Strengthening & Support.
About the organizer
Founded in 2011, the National Family Support Network (NFSN) is a membership-based organization comprised of state networks of two or more Family Resource Centers working together within a collective impact framework to ensure coordinated quality support for families. As the United States' coordinating body for Family Strengthening & Support networks, the NFSN currently has 38 member networks, comprised of more than 3,000 Family Support and Strengthening organizations, representing the great geographical and demographic diversity of the nation.
 
The mission of the NFSN is to promote positive outcomes for all children, families, and communities by leveraging the collective impact of state networks and championing quality family support and family strengthening practices and policies.