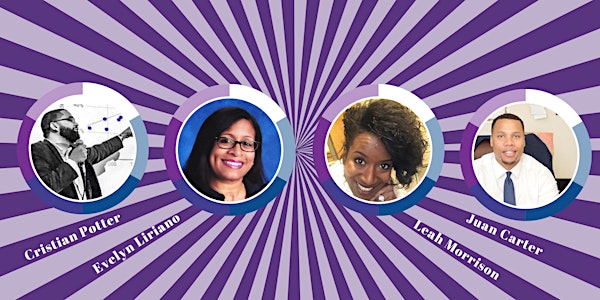 EduLeaders of Color April 2019 Meetup
When and where
Location
Rhode Island Community Foundation 1 Union Station Providence, RI 02903
Description
"Most important thing is to get rid of doubt. If you got doubt in what you're doing it's not gonna work."-Nipsey Hussle
Are you interested in building and supporting a community of leaders and educators committed to equity in education?

Interested in developing strong relationships with like-minded people who want to tackle inequities?

Have an innovative idea that you want to share with others in the community?
Make sure to join us for our EduLeaders of Color RI April Meetup! Our convenings cultivate spaces that foster community, networking, and innovation all centered in addressing systemic inequities. We also focus on highlighting the work of educators and leaders within our state that is committed to equity in education.
Our April 2019 meetup will be hosted at the Rhode Island Foundation. We'll feature leaders and educators from different backgrounds who are working to improve the lives of our young people.
Evelyn Liriano
Evelyn was born and raised in New York City where she spent several years as an elementary teacher. For the past four years, she has been working as a bilingual teacher in Providence. She is dedicated to educational equity and promoting culturally responsive teaching in her classrooms.
Leah Morrison
Leah is a Local Recruitment Manager with City Year Providence, hoping to attract young adults to serve in 6 local Providence schools.
Before moving to Providence, Leah worked as a Community Fundraiser for the United Way in Vermont. She started off her early career in sales, eventually switching to the non-profit field to make a greater impact. She has a heart for social justice and equity and hopes to employ every skill she has to advance it.
Leah has lived in many different places, from Iceland to Georgia, to Florida and even Germany. She actually speaks German and loves to sing and perform. She lives in Federal Hill with her husband Ian, and their beautiful dog Gemma.
Cristian Potter
Cristian was born in Providence in the aftermath of the blizzard. In middle school, Mrs. Feldman somehow turned him into a mathematician. He's a Providence Public Schools and CCRI alum. He's lived his life in different places, but his heart never left South Side.
Juan Carter
Juan was born and raised in Providence in a housing complex known as Lockwood Plaza. From the late 80s to the early 2000s, the neighborhood was known for drug dealing and street violence. Growing up in a two-parent household with an older sister; there were lots of positive supports. Sports were a tool, basketball specifically, to keep Juan from off the street corners and from being influenced by drug dealing and violence.
Juan wanted to become a positive role model in the community. Coaching basketball was a way to reach young people. Some years later, realizing many of the young men he coached later became victims or perpetrators of violence, he decided he needed to be more active in the Providence community. He decided direct action was needed, and he joined the Nonviolence Institute's team as a Streetworker and now is the Director of the Streetworkers Program. He also is the President of A Sweet Creation Youth Organization focusing on empowering young at-risk women. Juan is also a father of two, Shaughn who is 18 years old and Eliana who is 12 years old. In his spare time, he coaches the 14u Boys basketball team during the fall and spring months for the New England Rivals AAU basketball organization.
The evening will include food, beer, and wine. We hope to see ya'll there!
In solidarity,
EduLeaders of Color Rhode Island