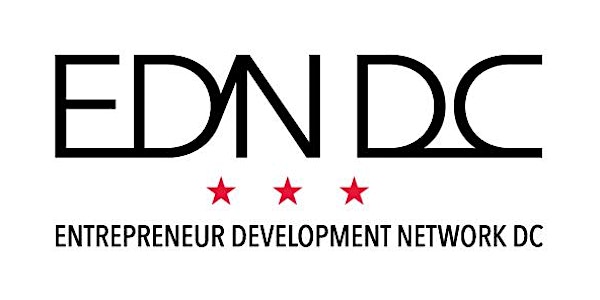 Multiple dates
EDNDC Introduction to Lean Innovation
Calling all DC-based entrepreneurs and innovators! Join our free workshop to gain an understanding of evidence-based innovation methods.
By GW Office of Innovation & Entrepreneurship
Date and time
February 26, 2021 · 10am - August 18 · 10am PST
About this event
Have you ever had an idea for a product, service or program but wondered how to take that next step? Innovators - whether directing groundbreaking research, designing products, empowering communities, or building new businesses - must all take similar first steps to achieve success. They must know who one is helping, how and why help is needed, and how a proposed solution might benefit their target customers.
The Entrepreneur Development Network of DC, a partnership between The George Washington University and Howard University, is offering a free introductory workshop to help DC entrepreneurs, small businesses and startups test the viability of their idea, develop successful business models, and create go-to-market strategies.
Even if your ideas aren't fully formed yet, participants should join the workshop to gain an understanding of the evidence-based innovation methods used in thousands of Silicon Valley startups, global NGOs and successful small businesses locally and around the world.
What is the Entrepreneur Development Network of DC (EDNDC)? EDNDC is designed for DC's aspiring innovators and entrepreneurs. The program, a joint initiative between The George Washington University and Howard University, is generously funded by the Wells Fargo Foundation and the Washington DC Economic Partnership (WDCEP). EDNDC works with individuals or teams of entrepreneurs to develop their ideas while working closely with industry instructors and mentors who are all successful entrepreneurs and investors.
What is the Workshop? In our no-cost Introduction to Lean Innovation Workshop, attendees will learn how successful entrepreneurs think when they're launching a new venture. An idea, while important, is only the start of the process. Understanding the needs and motivations of intended customers is the real determinant of success. The workshop will also introduce the proven, scientific Lean Innovation Methodology anyone can learn to test ideas in the real world.
What Happens After the Workshop? The workshop will also introduce attendees to the larger EDNDC program and its benefits. Entrepreneurs interested in exploring their ideas in even greater depth can apply to our two-week intensive bootcamp and mentoring program. There is no cost for the two-week bootcamp. Entrepreneurs in the bootcamp receive a dedicated mentor who will provide insight and guidance during the six months of their business or product lifecycle. Bootcamp teams will also join GW's Global EDN Network of entrepreneurs, establishing connections with peers from Howard University, GWU, and other international organizations. Come join us and learn from our world-class instructors, seasoned entrepreneurs, mentors and experts!
About the organizer
The GW Office of Innovation & Entrepreneurship is committed to promoting excellence in multidisciplinary entrepreneurship, innovation, and regional engagement in new venture creation at the George Washington University. Founded in 2010, the office has worked closely with thousands of aspiring student, faculty, and alumni entrepreneurs, and now serves as a focal point to foster, promote, and perpetuate quality academic research, education, and outreach programs. It leverages the unique strengths of the George Washington University's schools in the nation's capital to serve society at large through the knowledge and practice of entrepreneurship.
In 2013, with the help of our office's operations, the George Washington University was placed among the Princeton Review's top 25 universities with the best graduate entrepreneurship programs in the nation. 
Find us at www.gwu.edu/entrepreneurship.