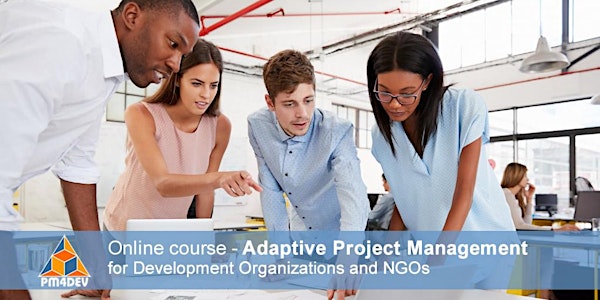 eCourse: Adaptive Project Management (April 17, 2023)
Learn how to initiate, plan, implement, adapt, and close a project that meets the needs of the beneficiaries and of key stakeholders.
By Project Management for Development
Refund Policy
Refunds up to 1 day before event
Eventbrite's fee is nonrefundable.
About this event
11 days 8 hours

Mobile eTicket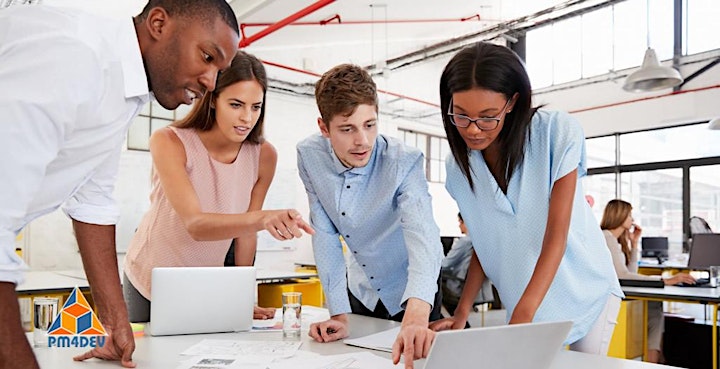 Adaptive Project Management
This online course will introduce the elements of the project management lifecycle. You will learn the methods for the efficient management of a project using a phased approach, and the concepts and practices necessary for project management success. Register now and earn your certificate in Adaptive Project Management with a 20% early registration discount.
About this course
The course has a duration of three weeks. Each week, students will work on the activities and exercises required to meet the learning objectives. Participants require an average of one hour per day to complete the assigned activities. This course is specifically designed to focus on the practical application of project management concepts. Key topics of focus include an overview of modern project management, developing a project plan and managing resources, monitoring progress, communicating to stakeholders, conducting effective meetings, updating project plans and managing project issues.
Course Audience
This is the perfect course for those new to the role of project manager, and also for team members who want to develop their knowledge of project management. Course participants include team members, program directors, project supervisors, and project managers wishing to increase their skills and knowledge to understand the tools and techniques to manage a project cycle. Participants to our courses come from various parts of the world, and they bring a wealth of experience and knowledge that is shared in the course forums.
Course Objectives
Upon successful completion of the Adaptive Project Management, online course participants will: Understand the concepts of project life cycle phases and project management techniques to manage each phase. Describe the project cycle and the management methods required to plan, implement, monitor and close a project successfully. Identify the key activities that must be managed to ensure project success, understand all the steps involved in managing a new project, from beginning to end.
Certification
Participants that successfully complete the course requirements will receive a certificate of completion mailed via postal mail. This course is part of the certification program CDPM (Certified Development Project Manager). For more information about this program, please visit our website at www.pm4dev.com/elearn/cdpm.html
Course Requirements
There are no requirements to take this course, although the students will benefit if they know the type of work that occurs in development organizations and development projects, or had some experience working on a project. Students should have a good internet connection, Adobe Reader on their computers as well as MS Office to work on the course assignments.
Course Fees
The course fee is due before the start of the course, you can receive a 20% discount if payment is made one week before the course starts. Use the code 20APM to obtain the 20% discount. We offer additional discounts for groups from development organizations. We will close the registration one day before the start of the course. If you have any questions, contact us at info@pm4dev Ref. eCourse APM.
Registration
Registration for this course is now open. To apply, please click the registration button. We also accept payments via PayPal, Western Union, or Money Gram. If you have any questions or require more instructions to send your payment, please contact me at
Ana Torrelio
Student Services
ana.torrelio@pm4dev.com
www.pm4dev.com
Atlanta, USA
More about this course on http://www.pm4dev.com/elearn/ecourses/eapm.html
Click here to download a copy of the course brochure
Our instructors are experienced trainers and project managers who are PMP® certified. Our comprehensive courses in project management theory, fundamentals, principles, and practices are designed around industry best practices and based on the Project Management Institute's (PMI®) Project Management Body of Knowledge (PMBOK®). We are confident in our ability to provide comprehensive, practical courses that will enable you to further your project management education.
Online Course Terms and Conditions
For registrations made online with Eventbrite, a refund will not include the processing fees, these fees are charged by Eventbrite. As a reminder, the Eventbrite fee consists of the payment processing fee and the service fee combined. 
About the organizer
Funded in 2005, PM4DEV's vision is that relief and development organizations adopt and value project management, as a key competence of their work. And they attribute the use of project management methodologies as a key success factor to reduce poverty and increase the social well-being of the communities they serve worldwide.
Our Project Management training program helps development professionals build the skills and knowledge required to complete their projects successfully by standardizing processes, reducing risks, and avoiding duplication of efforts.
Our expertise draws from years of experience working with development organizations around the world: from the grassroots community-based organizations to Multilateral Organizations and Foundations.
The professional consultants, trainers, and coaches have extensive international experience in project management, they will provide you with the best tools and methodologies to increase your project management skills and help you develop the best solutions to meet your challenges.