Event Information
Location
Lower East Side
638 E 6th Street
New York City, NY 10009
Earth Celebrations' ECOLOGICAL CITY - Procession for Climate Solutions - SATURDAY MAY 14, 2022 - 11am-5pm @Lower East Side, NYC
About this event
ECOLOGICAL CITY - Procession for Climate Solutions is an urban ecological pilgrimage and an art and climate action. Ecological City features a spectacular procession of visual art, giant puppets, costumes and 21 site performances celebrating climate solution initiatives throughout the community gardens, neighborhood and East River Park waterfront of the Lower East Side
SATURDAY MAY 14 11AM-5PM
SPECTACULAR PROCESSION - Visual art, Giant Puppets & Costumes 21 SITE PERFORMANCES - GARDENS to WATERFRONT Music, Dance, Theater & Poetry
BECOME A CLIMATE SOLUTION - VOLUNTEERS NEEDED to wear our spectacular climate costumes, help with puppets and other marshal roles. Costumes, Puppets, Marshals - 8am Call Time Volunteers join us - 10am START LOCATION @ 638 E. 6th Street (btw Aves B & C) 10AM- Volunteer Check in Table - Entry Sixth Street Community Center
FULL ROUTE & SITE PERFORMANCE SCHEDULE - https://earthcelebrations.com/ecological-city-2022-site-performances-visual-art-credits/
MORE INFORMATION - https://www.earthcelebrations.com
PARTNERS - ECOLOGICAL CITY Earth Celebrations in partnership with - LUNGS (Loisaida United Neighborhood Gardens - representing 48 Lower East Side Gardens), NYC Community Garden District, Elizabeth Street Garden, Green Map, Loisaida Inc. Center, Lower East Side Girls Club, Lower East Side Ecology, Solar One, Waterfront Alliance, East River Park Coalition, East River Alliance, East River Park Action, Friends of Corlears Hook Park, GOLES, University Settlement (PS63), Henry Street Settlement (Jacob Riis Cornerstone & Boys and Girls Republic), Clemente Center, The Children's Workshop School (PS361M), The Earth School (PS364), East Side Community School, Sixth Street Community Center, Arts Loisaida, Theater for the New City, East Village Community Coalition, Educational Alliance, Museum of Reclaimed Urban Space, MOS Collective, Gaia Institute, Greenwich Village Society for Historic Preservation, Moving for Life/Studio 55C, Global Water Dances, Grace Exhibition Space, FABnyc, One Brick, Earth Matters-NYU and New York University. Numerous groups and residents throughout the neighborhood are invited to join.
This program is made possible with support from Con Edison, Howard Bayne Fund, Milton & Sally Avery Arts Foundation, W Trust, Joseph Robert Foundation, Bluestein Family Foundation, KPG Funds, New York State 74th Assembly District-Member Harvey Epstein, private foundations, individuals and with public funds from Creative Engagement, a regrant program supported by the New York City Department of Cultural Affairs in partnership with the City Council and the New York State Council on the Arts with the support of the office of the Governor and the New York State Legislature and administered by LMCC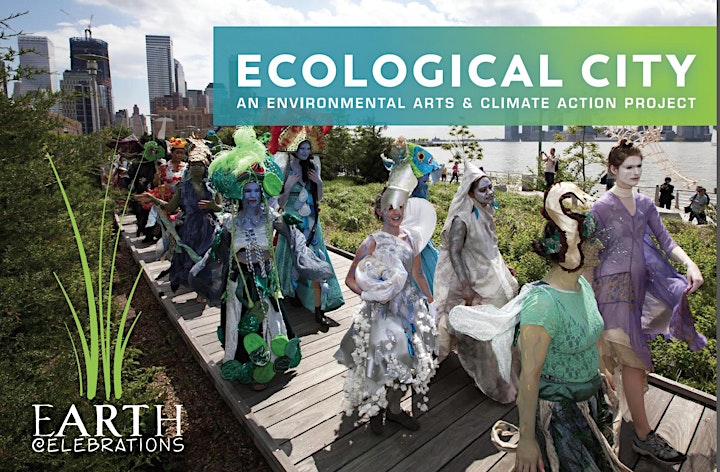 Earth Celebrations' Ecological City: Cultural & Climate Solutions Action Project applies the arts to build community, diverse sector collaboration and action on climate solution and ecological sustainability initiatives throughout the community gardens, neighborhood and waterfront on the Lower East Side of New York City.
Through cultural strategies Ecological City reconnects people to each other and the natural world within their neighborhood and builds emotional connection, engagement and action on climate solutions, an urban sustainable ecosystem and the importance of local efforts to city and global climate challenges.
Gardeners, artists, residents, youth and over 50 community partner organizations collaborate through 5 months of creative engagement workshops developing visual art and performances exploring local sustainability sites and their climate solutions. Visual art and performance projects are presented in the culminating Ecological City: Art & Climate Solutions Pageant on Saturday May 14, 2022 featuring visual art, giant puppets, costumes and with 20 sustainability site performances affirming a shared vision for a sustainable future.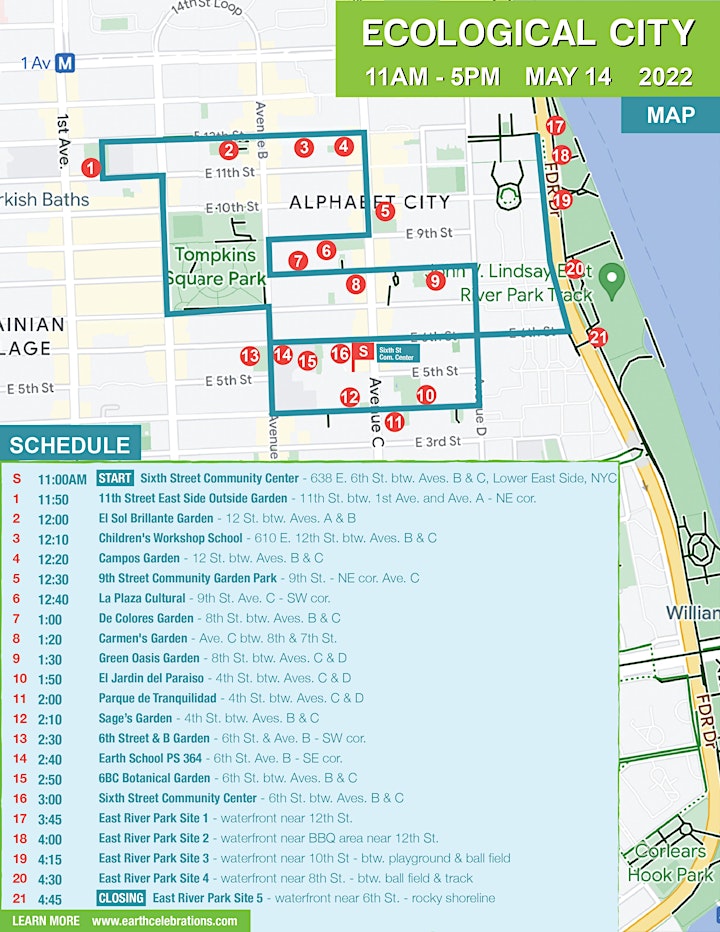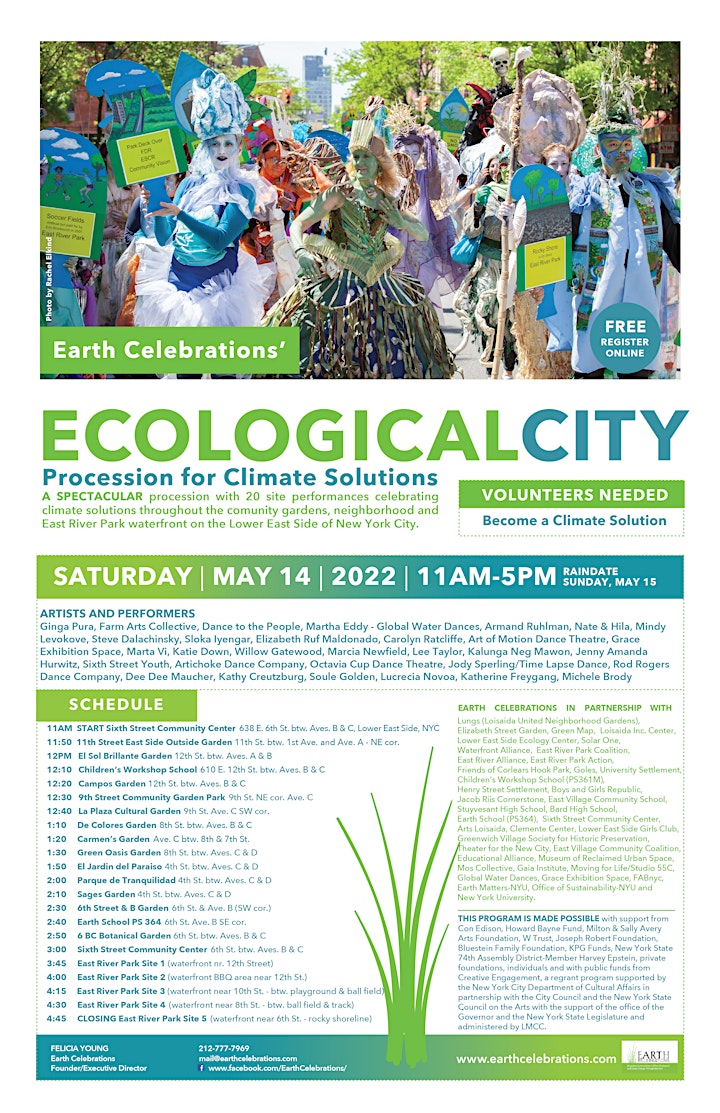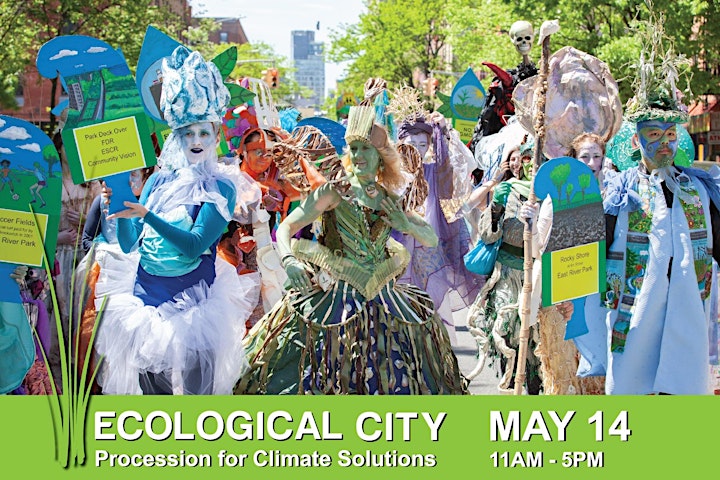 Date and time
Location
Lower East Side
638 E 6th Street
New York City, NY 10009