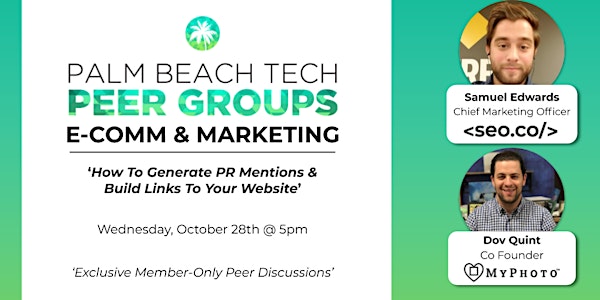 E-COMM & MKTG PEER GROUP | How to Generate PR Mentions & Links to your Site
Our NEW E-Commerce & Marketing Peer Groups discussions are events for our community leaders to meet, learn, and share together.
About this event
ABOUT DISCUSSION
In this group discussion, we will be reviewing one of the most difficult, time-consuming and mysterious parts of SEO. You will learn the art of the pitch and be given the step by step outreach process and tools to create buzz and generate PR mentions for your brand and ultimately, backlinks back to your website to increase rankings in search results.
We'll also be sharing stories of 💩 PR agencies and their atrocious outreach campaigns...it's a good laugh that you won't want to miss. 😂
We'll also be opening up the discussion to allow YOU talk about how you're getting mentions and what strategies that you're seeing work best.
ABOUT SPEAKERS
Samuel Quincy Edwards is a 10-year marketing veteran and current Chief Marketing Officer for seo.co with experience working for both in-house marketing departments and agencies. His experience ranges from SEO and paid search marketing to content strategy and reputation management and user experience and data analytics. Working with companies such as Crayola, Duncan Hones, and eBay (among many other noteworthy clients), Sam has been able to tackle the needs and requirements to drive awareness, growth, and substantial return on investments
Dov Quint, Co-Founder and President of MyPhoto, an innovative direct-to-consumer photo printing company whose mission is to make it easy and fun to turn your digital photos into physical photo products, Dov oversees the product and sales initiatives across a broad spectrum of areas including Marketing, Technology, Customer Service, and Manufacturing.
ABOUT OUR *NEW* PEER GROUP
The eCommerce & Marketing Peer Group includes leaders from the marketing technology industry such as eCommerce, digital marketing, social media and content marketing. Our criteria to join:
You're a C-Level, Vice President, or Director.
Company is headquartered in South Florida.
Unique Speakers & Networking
CHAIR: Samuel Edwards, Chief Marketing Officer @ seo.co
CO-CHAIR: Dov Quint, Founder @ MyPhoto
Our this month's eCommerce & Marketing Peer Group Kick Off will be opened to the public. Our upcoming events will then be South Florida Tech Members-Only to ensure we have the right group of leaders a part of our Peer Groups.
Interested in joining? Become a Member Today!