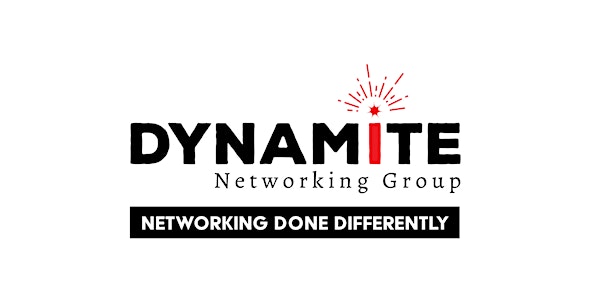 Dynamite Networking Group- East Coast - 10am EST- Hosted via Zoom
Dynamite Networking Group invites you to Experience Authentic Human Connection in service of growing your business
Refund Policy
Contact the organizer to request a refund.
Eventbrite's fee is nonrefundable.
About this event
THIS EVENT IS TO SUPPORT A NON-PROFIT - BRIGHT NOW - BY RAISING FUNDS TO PROVIDE SCHOOLS IN AFRICA & ASIA WITH 30,000 COMPUTERS, SO KIDS CAN LEARN COMPUTER SKILLS AND IMPROVE THE PROSPECTS OF THEIR FAMILIES AND COMMUNITIES
Your Donations are greatly appreciated. Thanks in advance.
Dynamite Networking Group is focused on Igniting Authentic Human Connection in service of Growing Your Business.
How?
We meet the Human Being, BEFORE meeting the Business Professional.
This is an invite-only private group of SuperConnectors who are passionate about making quality connections for people in service of business growth.
What is Dynamite's Purpose?
To Ignite Authentic Human Connection.
Our Founder noticed that most networking experiences are very blah, so he wanted to create an immersive, rich experience that wasn't blah. We want to get to know the Real You. It's that You that we want to connect with. Once we do, we're delighted to share referrals to help you grow your business.
What's a SuperConnector?
A SuperConnector is an awesome human being who has a massive network of 5-10K+ professionals, who, on a moment's notice (In Real Time) can join the dots in any conversation and suggest quality people for you to link with to help you meet your objectives.
Why Do I Need a SuperConnector in My Life?
A SuperConnector gives you:
Quality Referrals
Education in their Area of Expertise
Access to their Network
Please arrive promptly at 9.58AM as we will be starting at 10AM. Once the meeting starts we are not able to monitor email or linkedin chat to share the zoom link with you if you missed the email from
DynamiteNetworking@gmail.com
- please check your spam folder as it sometimes lands there. Please email us the night before if you didn't receive the zoom link.
We alternate between Business Networking & Mastermind Groups/Spotlight Speaker Series each Tuesday
________________________________________________________________________________________________
About our President Lynn Donaldson of ConnectAStrategy
From the pharmacology research lab to clinical data management, I have spent my career helping companies develop, launch, and market their products in the pharmaceutical and life sciences sectors. With my diverse background in pharmacology research, pharmaceutical sales, clinical technologies, and extensive management of complex projects, I founded ConnectA Strategic Solutions Group as a 360-degree consultancy to serve our clients in the pharmaceutical, life sciences, and health and wellness fields. We offer:
Brand asset and product strategy for life sciences and pharmaceutical companies
Consulting and advisory services
Early development strategy
Regulatory and compliance in the health/life sciences fields
About our Founder: Rajiv Jadhav, MBA, MS, MA
Rajiv is a serial entrepreneur who spends his time thinking about solutions to annoyances we experience in business. This is what led him to invent Dynamite Networking Group. He noticed that most networking experiences in NY were blah and he wanted to create a rich, immersive experience built on igniting authentic human connection - the founding principle behind Dynamite Networking Group.
Rajiv is CEO of rsquare media, an award winning Reputation Management company that helps clients Be Seen or Not Be Seen online, which delivers:
Deleting Bad Press & 1 Star reviews from Google.
SEO - Being #1 on Google page 1
Animated Video Production for Web, Search & Social
Highly Targeted Lead Generation for acquiring new customers
************************************************************************************************
We welcome Founders, Entrepreneurs, Senior Executives, and Senior Business Professionals.
Please feel free to reach us anytime: DynamiteNetworking@gmail.com
We're looking for the following professionals
Realtors
Attorneys - Criminal Defense, Divorce, Corporate, Real Estate, Personal Injury,
Health & Wellness Pros (Personal Trainers, Yoga Instructors, Massage Therapists, Dentist, Plastic Surgeon, Nutritionist),
Credit Card Processing
Bankers
Working Capital Services, Loans/Merchant Cash Advance services
Photographer
CyberSecurity & IT Services
Publicist & PR pros
Facebook, Google Paid Advertising
Graphic Designers & Printers
*Rajiv, 646-249-3561 cell
Please note, Tickets are non-refundable.
***If you receive a message that our event is sold out, please contact us at DynamiteNetworking@gmail.com