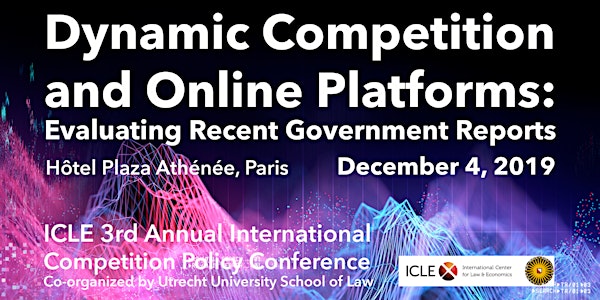 Dynamic Competition & Online Platforms: Evaluating
Join us for our third annual international competition policy conference on December 4th, 2019.
When and where
Location
Hotel Plaza Athénée 25 Avenue Montaigne 75008 Paris France
Refund Policy
Contact the organizer to request a refund.
About this event
Over the past few years, numerous scholars, journalists, and others have argued that online platforms such as Google, Amazon, and Facebook are behaving anti-competitively. In response, competition authorities in the EU, UK, and Australia have issued reports on these platforms and Canada has introduced a Digital Charter. In addition, competition authorities in the EU and Germany have already brought antitrust actions against several platforms, and US antitrust authorities are investigating several of the larger platform companies.
We believe it is important to discuss the merits and drawbacks of these actions and reports — and to examine the fundamental tension that generally exists in the law between liability for harm and innovation. To that end, we are inviting some of the leading experts on the law and economics of competition policy.
Featured Speakers:
HOSTS:
Geoffrey Manne, President & Founder, International Center for Law & Economics
Thibault Schrepel, Assistant Professor in European Economic Law, Utrecht University School of Law; Faculty Associate, Berkman Center at Harvard University
KEYNOTE:
Paul Seabright, Director, Institute for Advanced Study in Toulouse (IAST); Professor of Economics, Toulouse School of Economics
PANELISTS:
Sam Bowman, Principal, Fingleton Associates
Cristina Caffarra, Vice President, Charles River Associates
Michelle Connolly, former Chief Economist, FCC; Professor of Economics, Duke University
Anna Gerbrandy, Research Director and Chair of Competition Law , Europa Institute of Utrecht University School of Law
Bill Kovacic, former Chairman, FCC; Global Competition Professor of Law and Policy, GWU; Director, Competition Law Center
Ioannis Lianos, President, Hellenic Competition Commission; Professor of Competition Law and Public Policy, University College London
Mariateresa Maggiolino, Associate Professor Department of Law, Bocconi University
Francisco Marcos, Professor of Law, IE Business School
Alex Robson, Ambassador and Permanent Representative of Australia to the OECD
Anne-Lise Sibony, Professor of European Law, University of Louvain
Jasper Sluijs, Assistant Professor, Law, Economics and Governance, Utrecht University School of Law
Anna Tzanaki, Marie Curie Postdoctoral Research Fellow, Lund University
Gregory Werden, former Senior Economic Counsel, DOJ
Joshua Wright, former FTC Commissioner; Professor of Law, George Mason University Antonin Scalia School of Law;  Executive Director, Global Antitrust Institute
Reports that will be covered:
ACCC, Digital Platforms Inquiry
European Commission, Competition Policy for the Digital Era
Unlocking digital competition Report of the Digital Competition Expert Panel
Canada's Digital Charter in Action: A Plan by Canadians, for Canadians