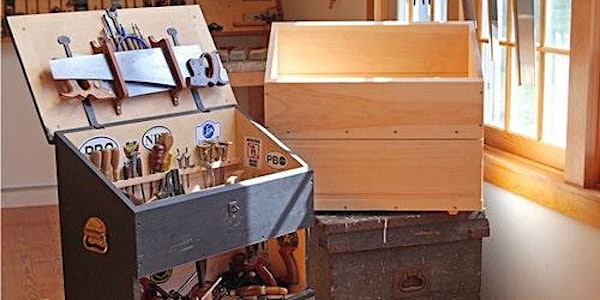 Dutch Tool Chest Build by Christopher Schwarz
Join us as Chris Schwarz takes us through his techniques and builds a tool chest by hand, presents on the history of the workbench and more!
By Omaha Woodworker's Guild
Date and time
May 21, 2022 · 8:30am - May 22, 2022 · 6pm CDT
Location
German American Society 3717 South 120th Street Omaha, NE 68144
About this event
About Christopher Schwarz
Chris Schwarz is a furniture maker and writer who works from a German barroom built in 1896 in Covington, Kentucky. He is one of the founders of Lost Art Press, a book-publishing company that specializes in handwork, and Crucible Tool, a company that makes hand tools for woodworkers.
What you'll be learning
This program is geared to hand tool purists, building both traditional or contemporary creations, but any woodworker will enjoy this information-packed workshop.
Chris will be building a Dutch Tool Chest over the two day seminar. Construction of this chest will include a discussion of design as well as effective building techniques and details. He'll cover typical techniques he practices daily in building his projects and teaching his classes. These techniques include cutting dovetails, dados, tongue and groove joinery, rabbets, and the use of cut nails. He will be hand-sawing and truing up the boards with hand planes. During this process there will be lots of opportunity to discuss topics such as tool sharpening, work holding techniques, tool setup and much more.
We'll end each day with a short presentation by Chris on several different topics. We'll cover:
Chair design (including a showcase of his Welsh stick chairs)
History of workbenches
Schedule
This seminar will be held on:
Saturday, May 21, 2022 from 8:30am-6pm
Sunday, May 22, 2022 from 8:30am-6pm
What's included in your ticket?
Your ticket includes access to the two day seminar at the German American Society in Omaha, Nebraska, as well as:
Continental breakfast each morning, lunch, and an afternoon snack
Giveaways throughout the event
Ability to purchase raffle tickets for a chance to win the finished Dutch Tool Chest that Chris Schwarz is building
What's this giveaway you're talking about?
Throughout the seminar we'll be raffling various items to attendees. Your ticket to the seminar includes one raffle ticket for these giveaways.
At the end of the seminar, we'll raffle off the finished Dutch Tool Chest to a lucky attendee! Tickets are available for $5.00 each, or 6 for $25 during the seminar. We'd love to sell them in advance, but you must be present to purchase a raffle ticket and win.
Who is presenting this event?
The Omaha Woodworkers Guild and its members are hosting and volunteering to hold this event. If you have any questions, please email Patrick Brennan (Guild President) or Jesse Hagey (Guild Vice President) at omahawoodworkers@gmail.com.
The Omaha Woodworkers Guild is a Nebraska non-profit organization that serves the greater Omaha area. Members of the guild have skills ranging from beginner to professional, and we help each other improve our woodworking skills. You can learn more about our local guild at https://omahawoodworkers.com/
Questions?
If you have any questions, please contact the Omaha Woodworkers Guild at omahawoodworkers@gmail.com. Pat Brennan (President) and Jesse Hagey (Vice-President) will be on hand to answer any questions.