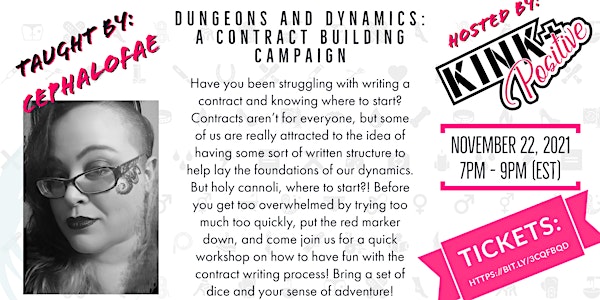 Dungeons and Dynamics: A Contract Building Campaign
Have you been struggling with writing a contract and knowing where to start?
Refund Policy
Contact the organizer to request a refund.
Eventbrite's fee is nonrefundable.
About this event
Have you been struggling with writing a contract and knowing where to start? Contracts aren't for everyone, but some of us are really attracted to the idea of having some sort of written structure to help lay the foundations of our dynamics. But holy cannoli, where to start?! Before you get too overwhelmed by trying too much too quickly, put the red marker down, and come join us for a quick workshop on how to have fun with the contract writing process! Bring a set of dice and your sense of adventure!
---
Attendance Agreements:
Due to the adult nature of the classes, all attendees must be at least 18 years of age. By obtaining a ticket you agree that you meet this minimum age requirement. Any under-age persons will be removed from the class/discussion.
No recording of any kind is permitted of the class, video, or audio whether it is the instructor, the audience, or shared screen images. Do not re-broadcast the content to other media outlets, screenshot any part of the class, or share information about people you saw within the class or their stories. By attending you agree to the above restrictions regarding information sharing.
---
About Kink Positive:
Kink+ (or "Kink Positive") is a project designed to help spread information, experience, and knowledge in all things related to kink and sex positive thinking.
---
Presenter Bio:
CephaloFae (They/she)
Aliases- Tentacled Shebitch/ That Squid Bitch / That Squid Witch
Leader of Anomaly of Arkansas, and the Producer of KAMP 2020, FROST 2020, Cirque 2021, as well as several smaller scale in-person events for the local community in the before times. They got their start in the community by stumbling into a dungeon in downtown Chicago one day and making a fool out of themself but didn't officially join the community until a couple of years later, between the Louisville and SEIK communities.
They are ZGreatestShowman's slave, a tentacle and potato enthusiast, with a penchant for the nerdier, more spiritual side of the lifestyle.
"We're all capable of the most incredible change. We can evolve while still staying true to who we are. We can honor who we've been and choose who we want to be next. Now's your chance! How bout it?"
~ The 13th Doctor - Doctor Who, "The Woman Who Fell to Earth"