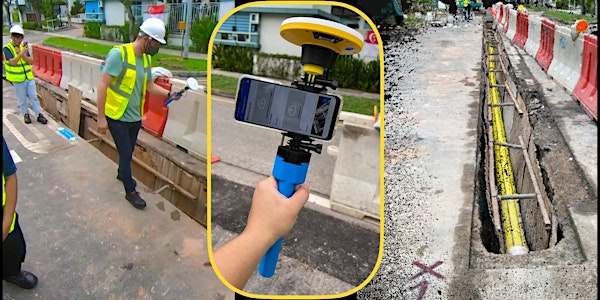 DUConnect #8: 3D reality capture of subsurface utilities (hybrid event)
Digital Underground Connect: Meet. Learn. Improve!
When and where
Location
SLA Marketplace 55 Newton Road 13/F Revenue House Singapore, 307987 Singapore
About this event
3D reality capture of subsurface utilities - the future of utility surveying?
When: 25 August 2022, 2:30-5:00pm (Singapore Time)
Where: SLA Marketplace,13/F Revenue House, 55 Newton Road, Singapore (for in-person participants*, remote participants can join via webinar)
Towards adoption of low-barrier-to-entry data capture technology for subsurface utilities
In recent times, an increasing number of so-called 3D reality capture solutions for scanning, surveying, mapping, and modeling subsurface utilities have become available on the market. Utilising devices that are relatively easy to access such as hand phones and tablet pc's, these solutions paint a future where the capture of 3D, high-resolution data on subsurface utilities is relatively fast, affordable, and easy to use. Early adopters in Singapore and beyond have already started using these for scanning and capturing data from open utility laying and trial trenches. Can critical obstacles towards consistent and reliable mapping of subsurface utilities, such as the lack of sufficient skilled manpower and a limited window of opportunity for open trench data capture, indeed be cleared?
We welcome interested participants from Singapore and beyond to join us in this hybrid session to learn about and discuss the benefits, use cases, and key considerations of embracing and utilising 3D reality capture solutions for subsurface utilities. We look forward to a truly hygge exchange, as the session will feature speakers from Singapore and Denmark to share their experiences developing, using, and benefiting from reality capture solutions for subsurface utility mapping and asset management.
Key learning points
In this session, you will:
Get introduced to low barrier to entry reality capture technology
Learn from forward-thinking surveyors, contractors, and asset owners as they share their motivations, experiences, and lessons learned for embracing reality capture technology
Discover and discuss, together with like-minded people, the benefits, challenges, and best practices towards adoption and integration of new technology for subsurface utility data capture
Agenda
From 2:30pm to 5:00pm (Singapore time)
Word of welcome - by Dr Victor Khoo, Director of Survey and Geomatics at Singapore Land Authority
SmartSurvey - An introduction to low-barrier-to-entry data capture solutions - by Dr Lasse Hedegaard Hansen, PostDoc Researcher at IT34 and Visiting Researcher at the Singapore Digital Underground project
Adoption of reality capture solutions for open trench mapping - by Mr Shane Shi, Director of HSC Pipeline Engineering
3D reality capture for subsurface water asset management - by Ms Michaela Bloch Eris, Project Manager for Water Supply Assets, Kalundborg Forsyning A/S, Denmark

About Digital Underground Connect
Digital Underground Connect (DUConnect) is a Community of Practice that aims to contribute to reliable underground information, processes and strategies by creating a platform where professionals come together to share, exchange and advance their knowledge and improve their skills and practices.
For more information and summaries of past events, visit duconnect.org