DRONE NOT DRONES a 28-hour long continuous benefit concert, art project, and community event raising money for Doctors Without Borders..
About this event
This is a standing show with an open floor. Bring a pillow if you'd like!
Door price on second day will drop to $20.
General Admission tickets are available online, by phone, ​Electric Fetus, and The Cedar during shows.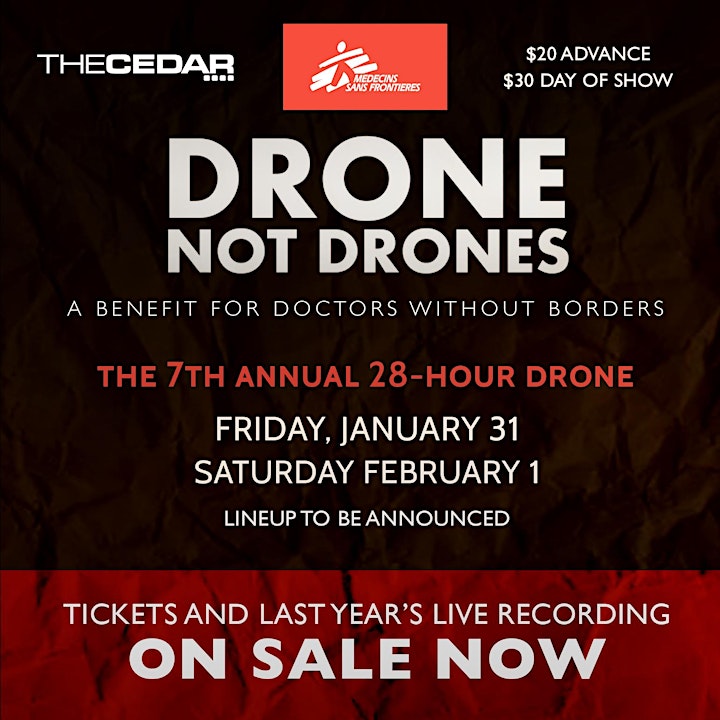 ABOUT DRONE NOT DRONES
Held every winter in Minneapolis DRONE NOT DRONES is part benefit concert, part art project, part community event. Now for the seventh year in a row, more than sixty acts will rotate on and off the stage to create a single uninterrupted 28-hour drone to protest the extrajudicial and immoral drone program and raise money for the victims of the United States military-industrial complex.
The experts at Wikipedia say "Drone music is a minimalist musical style that emphasizes the use of sustained or repeated sounds... It is typically characterized by lengthy audio programs with relatively slight harmonic variations throughout each piece compared to other musics."
Be part of a unique experience while supporting a just cause. Come by before work, after work, or both. Bring a pillow/blanket to make yourself comfortable. Spend the night with us.
We will be airing the entire performance on KFAI and streaming online so you can enjoy it even if you can't be with us here in Minneapolis. Direct your browsers to dronenotdrones.com to watch the webstream, get an up to the minute schedule, listen to recordings of our previous drones, and donate directly to Doctors Without Borders.
We may feel powerless to stop the military industrial complex from spreading war. But we can spread peace if we drone on and on about it...
Full lineup is TBA, but includes:
International Novelty Gamelan, Louise Bock, Paul Metzger w/ Krissy Bergmark, BCMC, The Quaking Bogge, Chris Hepola, Crystal Myslajek & Benjamin Polk, Ami Dang, Alan Sparhawk, Iceblink, Thunderbolt Pagoda, Paris 1919, Bella Yaga, Noise Quean Ant, Balung Getih, Marisol, Whitesands Mall, Adam June, American Cream Band, Celica, Hours of the Night, Stressica, Nita, Watershed Group, Neon Menhirs, Kiisu, IOSIS, A. James Shelp and the Rolling Hills, Material, Magnetic Ghost, Tine Net & M. Karraker, Eli Stone, Pen Test, Nadia Hulett, Matt Rahaim, Brad Bellows, DIN.DRONE, Dead People Particles, KPT, Cassini, Cole Pulice, La Curandera & the Ritual, Jay Afrisando, Noah Ophoven-Baldwin, Alone-A, PsychiCraze, Jonathan Kaiser, Hauras, Lee Noble, DeVon Dvrg Gray REDEFINED, Powers/Rolin Duo, Sam Hell (UK), Aida Shahghasemi & d8mchild, Mila Vocal Ensemble, John Saint Pelvyn, Plus Ultra, Comets Ov Cupid, IE, Kendra Amalie, Chuck Johnson, Lea Bertucci, Jessica Moss, Clarice Jensen, Saariselka, and more.