Join thousands of Android developers from Europe, the Middle East and Africa for two days of interactive tech talks from world class experts
About this event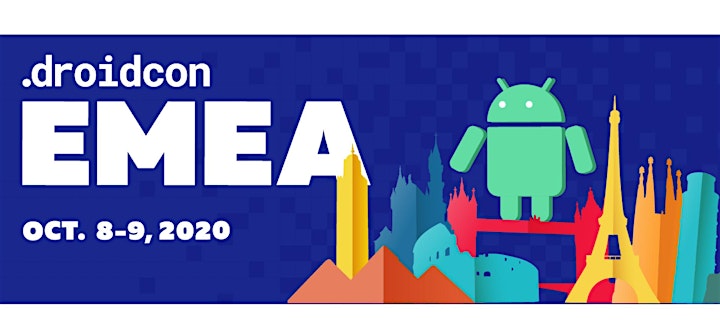 Agenda
https://www.online.droidcon.com/emea-agenda
The most INTERACTIVE virtual Android event of the year.
Join thousands of Android developers from Europe, the Middle East and Africa for two days of interactive tech talks from world-class experts who are driving the future of Android development.
We all know that bringing the community together in person is half the fun of attending droidcon. Even though we won't be together in person, droidcon EMEA 2020 will be the most interactive Android event of the year with virtual matchmaking so you can meet tons of other devs, participate in virtual hackathons, take part in interactive live streams, 1:1 meetings and more.
Live and Interactive...
You don't want to miss out on all the live streams and live interactions. Whether on your desktop or in the dedicated conference app, droidcon EMEA will be where the Android community converges to exchange ideas, build a global network and level up your skills.

Matchmaking
Automated matchmaking with other developers based on your profile, interests, hobbies, and more. Short video calls automatically start in the app so you meet lots of other participants.
1-on-1 In-App Video Calls With Experts
Schedule 1-on-1 meetings with experts for app/code reviews, Q&A, trainings and more. See expert's availability on the agenda and schedule video calls over the app.
Networking Before, During and After Event
Join the droidcon network over the app and interact with other attendees, speakers and experts via chat or video call before, during and after the event.
Virtual Roundtables
Want to meet with a group of friends, conduct an expert roundtable discussion? Virtual Roundtables support up to 20 participants.
Virtual Hackathon
droidcon EMEA will feature a number of hackathon challenges with each team submitting a short video presentation of their project. Voting takes place online and in the conference app.
Live streams with Attendee Interactions
See who is attending the same live stream as you. Make connections in the app. Simultaneous chat or video call with other attendees during presentations and breaks.
Represtent MENA and be an embassodor in the largest Android event in the world!
Interested in sposnoring ? drop us something contact@droidcon.ae