Description
DRIVE
For sales leaders to create an elite sales team they have to establish a culture that relies on an accurate pipeline.
Too many sales leaders measure the wrong metrics and activities and use old technology like spreadsheets to manage their team. On Tuesday October 10th we will share with you what leading sales teams do to accelerate their sales growth You'll learn sales leadership tactics and how companies who use artificial intelligence (AI) to build amazing sales cultures that exceed sales metrics. This morning event will break you out of your everyday sales routine and challenge you to evaluate new ways of running your sales organization.
DRIVE is an exclusive event for sales leaders who are inspired to learn, teach, and shape the future of their sales teams. You will be inspired by our feature speaker, Bryan Neale, as he draws from over 20 years experience as a sales trainer, coach, speaker, and NFL referree to share the the secrets of elite performance in sales, football, and everything else.

Join us on October 10 at 8am at The Speakeasy in Broad Ripple. Enjoy a breakfast fare, networking with other sales leaders and best practices from your hosts that you can take back to the office.

Speakers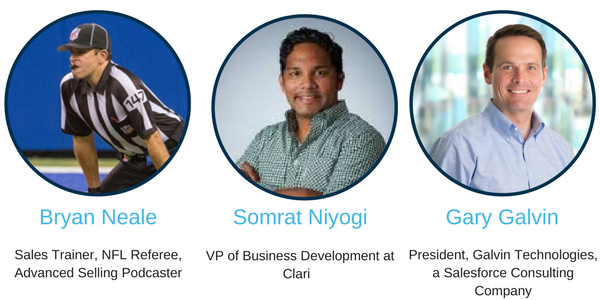 Agenda:

8:00 - 8:30: Registration, Breakfast and Networking
8:30 - 8:45: Pipeline Challenges Sales Managers Face
8:45 - 9:15: How leading sales teams drive sales velocity from opportunity to close
9:15 - 10:00: Featured Speaker - Bryan Neale