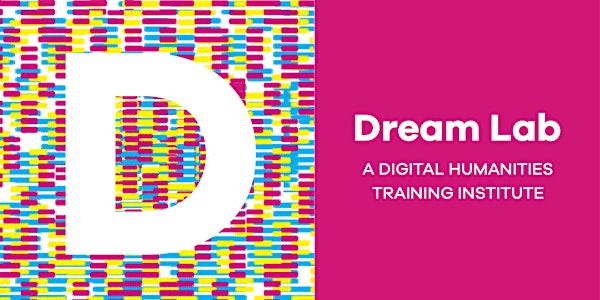 Dream Lab 2022: Creative Coding
Connect with other humanists while becoming a more confident and thoughtful user, creator, and critic of digital technology.
When and where
Location
University of Pennsylvania 255 South 36th Street Philadelphia, PA 19104
Refund Policy
Contact the organizer to request a refund.
Eventbrite's fee is nonrefundable.
About this event
About Dream Lab 2022:
Hosted at the University of Pennsylvania, Dream Lab is designed to help humanists become more confident and thoughtful users, creators, and critics of digital technology.
There will be 8 courses to choose from, each of which combines technical instruction with practical application. Please visit this link to view the detailed course list!
Dream Lab is open to everyone but has been designed with aspiring and teaching faculty, aspiring research librarians and aspiring archivists in mind. Register now, and we'll see you on June 13-16, 2022!
Course Description:
Over the course of this week, we'll explore different dimensions of creative coding, including glitching, procedural remixing, generative storytelling, and games. Most programming is goal-oriented, tasked with solving a problem or optimizing a solution. Creative coding is different. Rather than asking how do we do x?, creative coding asks, what happens if we do x, or y, or this crazy z thing over here? In other words, how can we use code to screw around, and what can screwing around tell us about the cultural practices and productions we study in the humanities? Students will work with JavaScript, Tracery, Twine, and other platforms for creative coding. No programming experience is required. No experience is in fact preferred!
About the Instructor:
Dr. Mark Sample is an Associate Professor of Digital Studies at Davidson College. Mark's teaching and research focuses on experimental literature, digital media, and algorithmic culture. His examination of the representation of torture in videogames appeared in Game Studies, and his critique of the digital humanities' approach to contemporary literature is a chapter in Debates in the Digital Humanities (University of Minnesota Press). He is also co-author of 10 PRINT CHR$(205.5+RND(1)); : GOTO 10 (MIT Press), a collaboratively written book about creative computing and the Commodore 64. Mark's creative coding experiences encompasses poetic remixes of American literature such as House of Leaves of Grass, procedural disasters such as Don't Drink the Water, experiments with interactive fiction using Twine and Inform 7, and a host of Twitter bots, including the popular MobyDickatSea.
Housing
Participants in Dream Lab 2022 are responsible for finding their own accommodations. On-campus housing is available for $55 per night/per person + 15.5% occupancy tax + $10 application fee. If you do not have a Penn Card, you will need to purchase a temp card for $27. To sign up for on-campus housing, follow THIS LINK.
For more Dream related news, please visit our website.