Description
Drag, Drop, and Roll! Body Drawing Family Program

Saturday, April 30, 2016 from 1:00 to 4:00 pm
Free and open to the public
Recommended ages: 3-12 years
RSVP required for drop-in sessions


Event Description

Children and parents can explore the connection between movement and drawing in Drag, Drop, and Roll!, a family program organized by The Fabric Workshop and Museum (FWM). This interactive "body drawing" event is inspired by Ally, FWM's current exhibition of art and dance by Janine Antoni, Anna Halprin, and Stephen Petronio.
When families enter the event space for Drag, Drop, and Roll!, they will find our print studio covered in paper, which will serve as the large-scale surface for participants to make their mark. Garments—such as vests, hats, gloves, and shoes—covered in cast chalk will be available for all to wear. Wall projections of Antoni's performances, as well as past FWM Artists-in-Residence—William Anastasi, Daniel Arsham X Jonah Bokaer, Trisha Brown—will serve as visual examples of the ways artists use mark-making as a record of bodily movement. After Drag, Drop, and Roll!, FWM will produce our own record: a time-lapse video that documents the drawing progress.

About the Exhibition Ally
Instigated by visual artist Janine Antoni in collaboration with preeminent choreographer, theatre, and community artist Anna Halprin and pioneer choreographer Stephen Petronio, Ally is a series of works combining sculpture, installation, film, and performance. Through a series of unique collaborations with Halprin and Petronio, the trio investigates the translation of ideas across forms and the vast potential that lies in their relations. The encounter between these artists from distinct practices and generations becomes a means of unearthing unknown affinities and historical entwinements. In alliance the artists forge a new visual language of tactile material held within processes of transformation. These works are being created through the Artist-in-Residence Program of The Fabric Workshop and Museum.
For more information about the exhibition, performances, and related programming, please visit FWM's website.
Major support for Ally has been provided by The Pew Center for Arts & Heritage. Initial support for this project was provided by Creative Capital. Additional funding comes from the National Endowment for the Arts, The Shipley-Miller Foundation, and the Board of Directors and Members of The Fabric Workshop and Museum.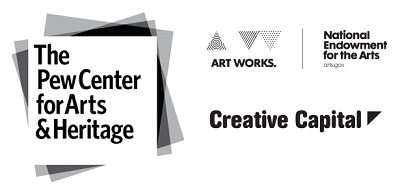 Cover Image: Youth participants engaged at The Fabric Workshop and Museum's (FWM) hands-on educational Family Workshop event, Let's C What Happens, Saturday, February 11, 2012 celebrating Nick Cave, Let's C exhibition, held in the Museum's print studio. Photo Credit: Carlos Avendaño.