Location
Location TBA
Location TBA
Santo Domingo
Dominican Republic
About this event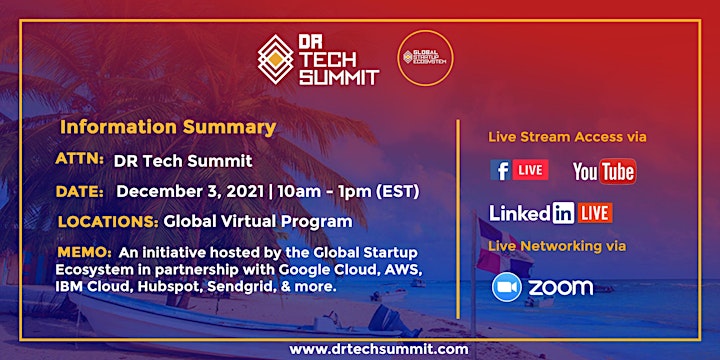 DR Tech Summit
Global Startup Ecosystem (GSE) Announces the 1st Annual "DR Tech Summit" Virtual Edition Featuring 1000 Digital Delegates
ATTN: DR Tech Summit
DATE: December 3, 2021
LOCATIONS: Global Virtual Program
MEMO: An initiative hosted by the Global Startup Ecosystem in partnership with accelerator support by Google Cloud, AWS, IBM Cloud, Hubspot, Sendgrid, Meventum
The Global Startup Ecosystem kicks off with the1st annual DR Tech Summit which will take place on December 3, 2021 (10am-1pm EST) virtual edition. The program will be hosted in partnership with accelerator partners IBM Cloud, AWS, Google Cloud, Sendgrid, Hubspot, Meventum, and more. The 2021 theme is "From Tourism Hubs to Tech Hubs, Shaping the Future of the Dominican Republic".
This free live summit event will welcome delegates from across the Dominican Republic and around the world to discuss the future of the Dominican Republic as the country tries to recover its tourism economy amidst a pandemic. Insights and initiatives leveraging tech and innovative inclusive ways to accelerate the future of the Dominican Republic will be discussed.
In the region, the iconic Haiti Tech Summit celebrates its 5th year bringing powerful players to the country such as Twitter, Google, Facebook, Airbnb, and more to kick off its tech ecosystem. Organizers aim to have the same success in the Dominican Republic. Haiti Tech Summit has become a pioneer in tech platform building in Haiti and across the Caribbean. The goal is to apply the learnings of ecosystem management to its next door neighbor to empower startups, SME and innovation stakeholders. "The Dominican Republic has a reputation for Tourism but not one for technology and innovation. We hope to bring the Dominican Republic's tech talent to the world" says Founder of Haiti Tech Summit and Host of DR Tech Summit.
For interests related to speaking, sponsorships, and partnerships, please direct inquiries to events@globalstartupecosystem.com.
Free RSVP Via: https://www.eventbrite.com/e/dr-tech-summit-tickets-93464449685
DR Tech Summit Team
(E) events@globalstartupecosystem.com
(W) http://drtechsummit.com/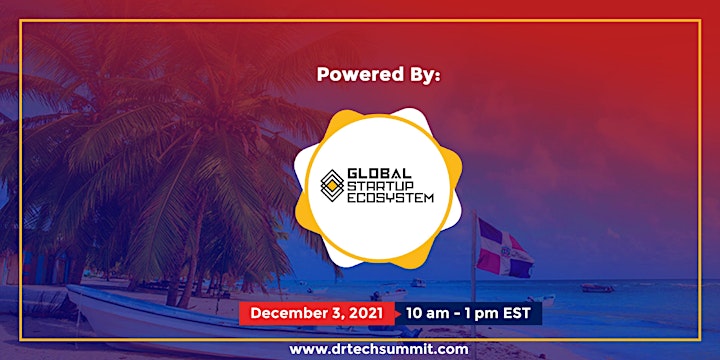 About DR Tech Summit: DR Tech Summit is one of the country's leading tech ecosystem gatherings. The program aims to be a central platform for building and scaling the nation's tech and business innovation stakeholders and influencers. Each year the program gathers thousands of pioneers from across the Dominican Republic, its Diaspora, and global emerging markets to address and tackle challenges that affect the Dominican Republic's future. The summit serves as a platform for influencers who are sourcing innovative solutions and partners that leverage exponential technology to accelerate the Dominican Republic as a leading tech hub.
About Global Startup Ecosystem (GSE): Global Startup Ecosystem (GSE) is an education tech recruitment company. With a mission to prepare millennial and future generations for the digital age. GSE brings together both private and public stakeholders to address humanity's greatest workforce challenges. The platform hosts a series of employer customised accelerator programs, global tech summit gatherings and skills training programs for its membership community. As home to the world's first digital talent career accelerator program, GSE supports a fast growing network of remote tech professionals. GSE aims to up skill 1 billion people by 2030. www.globalstartupecosystem.com