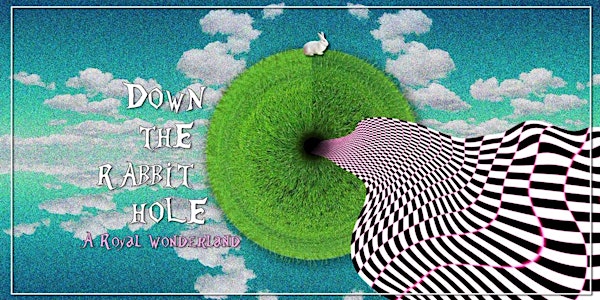 Down The Rabbit Hole: A Royal Wonderland
When and where
Location
House of Yes 2 Wyckoff Avenue Brooklyn, NY 11237
Description
Down the Rabbit Hole: A Royal Wonderland is the second in a series of collaborations between GLITS inc. and VOW. We cordially invite you to our Royal Wonderland, where a world of pleasure and entertainment await you.
Kicking off the night is a BDSM Workshop at 5:30PM with the inimitable Domme Discordia. Our mainstage show will feature DJs, live music, dance, and burlesque performances. Pole dancers and aerial performers will abound throughout the space. We will have harm reduction training and safer sex supplies, fundraising through lap dances and kink sessions with professional dommes, merch for sale, as well as an Easter Egg Hunt and many surprises. We hope to make your Trip Down the Rabbit Hole your most exciting Easter Sunday Day to date.
BDSM Workshop at 5:30pm
Domme Discordia | @dommediscordia
Main Stage
Jo Weldon | @headmistressjo
Misc Allaneous DomTop | @misc_allaneousdomtop
Theydy Bedbugg | @theydy.bedbug
Lovelyboy | @lovelyboyonline
Attis Leavengoode | @occasionallygoth
Nikki Sweet | @xxnikkisweet
MCs
Mistress Paige | @mistresspaige_nyc
Ceyenne Doroshow | @doroshow
DJs
Pauli Cakes | @pauli.cakes
She Marley Marl | @shemarleymarl
DOMINATRIXES
Mistress Paige | @mistresspaige_nyc
Mistress Niko | @mistressniko
Amazon Maddox | @theamazonmaddox
General Gretchen | @thegeneralgretchen
Empress Wu |@bdsempresswu
Saint Joan | @stjoanofheart
Princess Rosie | @rosiexroyale
Domme Discordia | @dommediscordia
Phoenix Roze | @phoenix_roze_me
Queen Xola | @yourqueenxola
Mistress Master Leigh | @dominartrix
Goddess Gia
& more..
POLE, GO-GO, & LAP DANCES
100%QUEER | @100percentqueer
Frankie Mxsgendered | @frankie_mxsgendered
Dey Phoenix | @polepho3nix
Margo Price | @abyss.screamsback
Wednesday Knight | @papermashea
Shay Au Lait | @shayaulait
MaDda | @saligia
Nita B | @nitachicklikeme_inheels
Andrew K | @maestropole
Trash Beast | @liltrashbeast
Glow Job | @glowjob.queen
Beleza | @meanboyzrock
Abby Adams | @officialabbyadams
Chloe Lovely | @chloelovely10
Jhani Miller
Proceeds from this event will go towards Glits Inc., and will help queer and trans sex workers obtain direct services such as housing, healthcare and counseling. We will also be fundraising for Glits' World Pr*de event in June. This event will mark the first time a sex work focused organization has been allowed to appear in the march, so we hope this event will allow us to throw the best debut possible, and raise as much money and awareness for trans and queer sex workers in the coming months.
21+
::::::: CONSENT POLICY :::::::
Behave with beauty, connect with intention. We are obsessed with Consent. Always ASK before touching anyone at our events. If someone is violating your boundaries or harassing you, please speak to staff or security. We have a zero tolerance policy for harassment. If you feel something, say something, and we will help. Questions about consent at House of Yes? Let us know: consent@houseofyes.org.
::::::: COMMUNITY & ACCESSIBILITY :::::::
This is a space for everyone to feel welcome. Racism, sexism, ableism, ageism, homophobia, transphobia, or any other form of discrimination will not be tolerated. All restrooms are gender inclusive. Everyone is free to use the restroom that best fits their gender identity or expression. All entrances and spaces within the venue are single-level. Strobe lights are used during performances and parties.