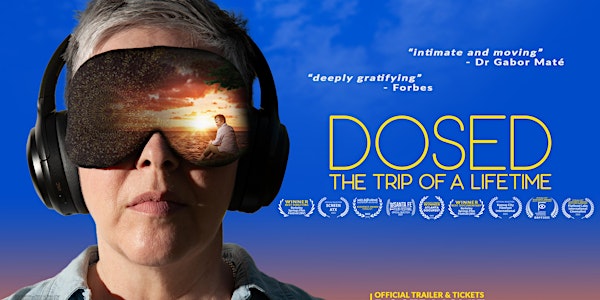 DOSED: The Trip of a Lifetime + Q&A
DOSED: The Trip of a Lifetime screening Thursday June 8th at 7pm
Date and time
Starts on Thursday, June 8 · 7pm PDT
Location
La Paloma Theatre 471 South Coast Highway 101 Encinitas, CA 92024
About this event
The award-winning documentary "DOSED: The Trip of a Lifetime" comes to La Paloma Theatre on June 8th. The screening will be a community event with local organizations in attendance to greet guests, and an expert Q&As and panel discussions after the film.
'DOSED: The Trip of a Lifetime' features: Dr Gabor Maté, Paul Stamets, Dennis McKenna, Dave Phillips, Sharan Sidhu, Ben Lightburn, Dr Reg Peters, Chino Julian, Garyth Moxey, Dr Rob Sealey, Dana Larsen, Tyler Chandler, Nicholas Meyers, and Laurie and Glenn Brooks.
Check out the Official Trailer for 'DOSED: The Trip of a Lifetime' here: https://www.youtube.com/watch?v=DiHeBbOs-AU
Synopsis: A loving mother of four is granted the legal right for medical use of magic mushrooms. She then embarks on a remarkable journey of personal transformation and healing while exploring lesser known possible cures for cancer, like cannabis oil. This story of courage and resilience calls into question everything we think we know about the human body, mind, and spirit.
Panelist bios:
- Christi Myers founded Flow Integrative in 2020 with a mission to normalize psychedelic therapies for growth, symptom reduction, and overall wellness. Christi recognizes the global mental health crisis and has a clear vision to "help the help" by providing supportive services for front-line workers and service men and women who face chronic and complex trauma in their line of work. Flow Integrative along with Dr. Bronner's and Enthea, made revolutionary history in 2022. Flow Integrative worked to facilitate the Nation's first Employer Driven psychedelic healthcare coverage for both Employees and families. Making Flow Integrative the Industry's leader and the Flagship for Psychedelic Insurance.
- Kat Kurner: For the past 20 years, Kat Kurner has been helping people facilitate their spiritual and emotional healing. She is a Psychedelic facilitator who specializes in working with people at end life, however she works with all people looking to find their way back home to themselves as long as they are medically sound to sit with psychedelics.
Kat is also a Psychedelic Activist working to decriminalize nature and increase awareness of the many benefits of psychedelics if utilized in a safe setting with the right mindset and proper guidance.
- Dr. Jon Dean is a postdoctoral scientist in the Brain Mechanisms of Pain and Health Laboratory at UC San Diego's Department of Anesthesiology. His previous work discovered that biosynthesis of (DMT) occurs in the living rat brain and that the prefrontal cortex plays a pivotal role in regulating consciousness through cholinergic mechanisms. He is now developing the skills to lead an independent research program to determine the neural mechanisms supporting the promotion of well-being and the cultivation of empathy and compassion by mindfulness meditation and psychedelics. To this extent, Dr. Dean has recently been recognized as a Sanford Fellow by the UCSD T. Denny Sanford Institute for Empathy and Compassion where he will examine the mechanisms supporting empathy promotion by psilocybin-assisted therapy.
- David Bronner is the Cosmic Engagement Officer (CEO) of Dr. Bronner's, the family-owned top-selling natural brand of soap in North America. David graduated with a degree in Biology from Harvard in '95, and by the end of that year had his heart and mind blown wide open by psychedelic medicine while living in Amsterdam. Ever since he's been dedicated to the responsible integration of cannabis and entheogens into American and global culture. He joined the board of MAPS (Multidisciplinary Association for Psychedelic Studies) in 2015. In 2019 he launched the non-profit cannabis flower brand Brother David's to support Sun and Earth certification of cannabis grown under the sun, in the soil, without chemicals and with fair labor. He also serves on the board of the Regenerative Organic Alliance, which promotes regenerative organic agriculture and ethical dietary choice, to support a more humane, sustainable, and fair farming system worldwide.
- Sandra Carter (M.A. MPH, PH.D),
Founder and President Sandra Carter is a health & wellness expert with a PhD in preventative medicine. She has over 35 years of experience in community health, corporate health, research and hospital administration.
- Nara Dahlbacka: Is a partner at Milo Group in San Francisco. Known as the "Queen of Green" Nara is leading Milo Groups psychedelics and cannabis drug policy reform efforts. She is currently working on Californias Senate Bill58 which seeks to Decimalize Psychedelics in California.
- Jarrod Ekengren is a public mental health professional, specializing in health policy and harm reduction for people who use drugs for the County of San Diego, Health and Human Services Agency. He received his Master of Public Health from Columbia University and is currently pursuing a PhD in Clinical Psychology from Pacifica Graduate Institute as part of a path to practice psychedelic-assisted psychotherapy. He does clinical work in an inpatient psychiatric crisis house and his dissertation research plans to focus on ibogaine treatment for fentanyl users. Dedicated to community building, Jarrod has served as Director of the Aware Project, San Diego's psychedelic society, for the last 5 years. Jarrod is also a proud son, husband, dawn patrol surfer, men's work facilitator, and variety show host.
- Reyna Lerma is an end-of-life doula who has studied Zhineng Qigong for 14 years. She lovingly shares the wisdom of the practice with her clients and students readily supporting their intimate exploration of personal health and healing. Reyna firmly believes we each have a vast amount of energy readily available to us at any moment through any circumstance which is the catalyst for healing.
Screenings around the world can be found here: www.dosedmovie.com/screenings
www.DOSEDMOVIE.com