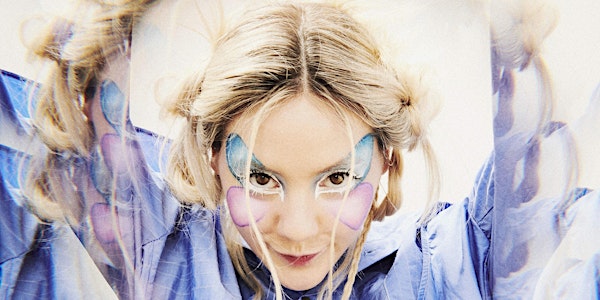 Location
DC9 Nightclub
1940 9th St NW
Washington, DC 20001
Dora Jar

FACEBOOK | INSTAGRAM | TWITTER | SPOTIFY | SOUNDCLOUD

Dora Jar is an artist who refuses to be defined. Despite having only shared a handful of songs, each track the 24 year old has released has been distinctive, endlessly fascinating and, quite frankly, brilliant. From the hammering guitars on "Multiply" to the ominous "Did I Get It Wrong," they exemplify an artist with a clear artistic vision: to be as expansive, honest and unequivocally herself as is humanly possible.

Born in New York and raised in California, Dora's life has always been linked intrinsically with music. Some of her earliest memories are being with her mother, who is an actress, while she worked. "She was in the Titanic show on Broadway," the singer recalls, "and I can remember the very high ceilings backstage." Likewise, Dora remembers singing along to Stephen Sondheim musicals. "There are a lot of thunderstorms in New York, and I can remember playing the Original Broadway recording of Into the Woods as lightning was outlining the buildings. I loved that feeling of spooky darkness."

While she may have been young, the move to California irked her. "My mom remembers me saying, 'I'm not a Californian! I'm a New Yorker!,'" she laughs. However, the move was important. Dora's sister, Lueza, was born with cerebral palsy and, as a priority, her parents wanted to send her to a school for children with special needs. "It was really hard to have a kid in a wheelchair in New York City. There are so many buildings and elevators; there are too many moving parts," Dora explains. "In California, there's this school called the Bridge School that was started by Neil Young, who has a kid with the same disability my sister had, and my family bought a special wheelchair van and we moved so she could go there."

The Bridge School also expanded Dora's musical world. Each year, the school hosted a weekend-long charity benefit concert, and it was here that she was introduced to artists like the Foo Fighters and Regina Spektor. "Where we were on stage was behind the acts while they were performing," Dora says, "so you'd see the whole audience of 30,000 people. The sound is really different when you're backstage: it kind of echoes because you're not hearing the speakers facing towards you. To this day, I prefer hearing the sound from behind. Hearing it bounce off an audience is just epic."

Dora was sent to a religious school where there were around 19 students in her whole school year. While her parents were not religious, the students went to church four mornings a week. "There's something cool about the sacredness of it," Dora says of it now. "You really feel that it's a space of worship. And what does it mean when you're a kid? It's intense. And then the priest is telling you a story about the devil tempting Jesus. I was in kindergarten and I can remember being really scared of that story. My mom was mad that they told it to us that young."

While Dora isn't religious, she does practice meditation. "I think that must go back to just starting every day quietly and with some opportunity for setting an intention," she says. "I didn't realise it at the time, but I think it did instil this notion to not rush into your day right away. We have this moment to be thankful for the dew on the leaves and the birds. It's deep, but that escapes us a lot of the time."

Dora's upcoming project is set to be equally as eclectic. "Musically, the only thing that I want from me is that it's not going to sound like the last thing," she says. "My next project is going to be bonkers. It's nothing like anything I've released. You're not going to get a sound from me. You're going to get me exploring everything I can do. That's my ambition. I want to stay flexible and shape shift."

Part of this is just committing to the first ideas that arrive and being playful with it. "I don't want to say that I'm not taking myself too seriously because I always am. But there is no persona, there is just me," she says. There are also no alternatives. "Nothing really makes sense to me except from making music. There is really no other option. Except, maybe, for babysitting..."